Farhad Pourimohammad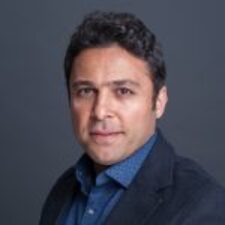 IT - Systems Analysis Stream
Director of Product
WebsiteBox
Start-ups open up new doors and opportunities for Internationally Educated Professionals
Farhad Pourimohammad is flourishing in Canada working as the Director of Product at WebsiteBox, a five-year old start-up company that develops websites for real estate professionals across North America. But when Farhad first arrived, finding a job with comparable experience to what he had before immigrating had been a challenge.
The change for Farhad, an internationally educated professional (IEP) from Iran, happened after joining a bridging program at York University. Farhad came to Canada in 2013 expecting to make a smooth transition into the Canadian job market, only to discover that a lack of Canadian experience and knowledge of local workplace practices initially stymied his efforts to land a position at the same level in Canada.
It was a startling revelation for Farhad, who had worked in very senior IT management positions at the largest retailer in Iran and had come to Canada with a unique blend of strong technical skills in software development, team management skills and a strong understanding of the business side of information technology.
Immigrating one of the biggest changes in life
"Immigrating to a new country is difficult and one of the biggest changes in life," says Farhad. "In spite of coming to Canada from a very senior and stable role at one of the largest companies in Iran, I discovered that a lack of Canadian experience and some cultural gaps were becoming impediments to gaining a similar type of managerial role here."
He recognized he needed some external help to bridge the gaps and turned to York University's Internationally Educated Professional's Bridging Program, which made a tremendous difference.
Farhad updated some of his technical skills through York's IT certificate stream, but what he really appreciated was the ability to update some softer skills, the help in building a network and also learning some of the subtle differences between the way business is done in Canada versus Iran. He found out about the opportunity at Websitebox through his network and attributes part of the success to landing the job to the program's foundation courses on professional business communication in Canada.
"After completing my initial telephone interview with WebsiteBox, I sent a thank you email back to the company incorporating many of the keys learnings from a business communications course and I believe that email played a key role in helping me to secure an in-person interview, where I was offered the position," says Farhad.
Start-ups an inspiring avenue for IEPs
Choosing to join a relatively new company was a very different route for Farhad, who had been used to working for large established companies and it contrasted from the kinds of other organizations other IEPs were looking to join.
"Working for a young start-up company has been invigorating because you end up working in multiple roles," says Farhad. "It's an exciting time for me and the company, as a new round of funding is enabling us to expand the business by targeting additional vertical markets while also developing the next generation of our systems."
In addition to working on the operations side of the business, Farhad is a senior business analyst who also works closely with the firm's CEO, on strategic planning and analysis, plotting the next phase in the company's development and expansion.
With so many start-ups and young companies in the greater Toronto area, Farhad encourages other internationally educated professionals to consider this as a powerful career route.
"Don't just focus on the banks and government when looking for employment," says Farhad. "Start-up companies have very dynamic and vibrant environments that enable you to learn a lot of skills in a very short amount of time. They can value the expertise and experiences that internationally educated professionals can bring to the company. It's really a winning solution both for the company and the IEP."