Check out the graffiti written on the shower curtain at the 1994 exhibit for Persons Day.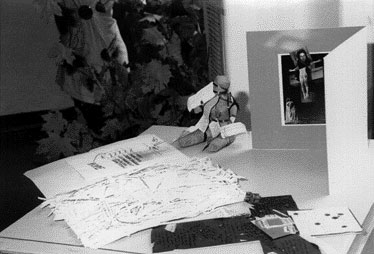 women + voice = more voice
How wondrous the love of the Great Mother for all her children - Khaeli
Today I celebrate who I am and all that I have yet to be - Trisha
The great celestial word-barrow is powered by mothers' milk
Celebrate the TRINITY: Maiden, Mother, Crone
Your silence around race will not protect you - Heather/Michèle
Wait til my sons can read. They will read about strong womyn, womyn with spirit and passions, Womyn that I love. Will they dare to love a womyn like mom?
EAT MORE CAKE!
We ate the cake ... and it was as delicious as women's words. GB.
My brother is just learning to read but I'm glad I already know how. It's just better.
by Sarah I'm 8.
WOMAN - THE GIVER OF LIFE!
My mother would understand. 100 jobs and that drive to get it done. Model - friend - pioneer - explorer - nurturer - mother - caring, music, sincere, free - non-judgmental. Pleased that they thought I'm like her. She is here with me. In the days, the work, with love! Cora
Moms: please be careful what fairy tales you let your daughters believe. Sonnet
My Life. I've done it all! Married, divorced. Raised 2 kids, moved 7 time, immigrated 7 times, worked 17 years in an office and a home, wrote a book, etc... Now I'm starting to live ... I've just begun my first year towards my B.A.!!! Yes!! Jabeen
come together in peace
It is a wonderful and necessary thing to register women's words and lives in material, tangible ways, such as this exhibition. I would have liked to have the opportunity to meet and talk with some of the other contributors - perhaps that will happen. Community is important, I appreciate this space as an aspect of female community arranged with care and warmth. FAP.