York University has released its first-ever list of Top 30 Changemakers Under 30, shining a spotlight on remarkable young alumni who are making a difference in their communities, the country and around the world.
From the School of Administrative Studies, Matthew Ravida (BCOM '18) joins the list.
Matthew works as an events officer with BMO Without Barriers - an enterprise resource group for employees with both visible and non-visible disabilities. He is also a national ambassador for Kids Help Phone where he has created a physical presence within Toronto and surrounding areas through multiple media outlets such as CBC Toronto and Global News. Matthew is a partner with a not-for-profit mental health hub known as the Ramblr Project, dedicated to creating a community for people to share, connect and learn about their mental health. He also serves as the co-host of the podcast Mind Sweep, a Ramblr Project initiative. The podcast aims to highlight guests that have experienced any mental illness related struggles and provide individuals with resources to attain better mental health practices. Matthew was the recipient of BMO's 2019 Annual Best of BMO Award for his efforts within the mental health/illness space at BMO and within his communities.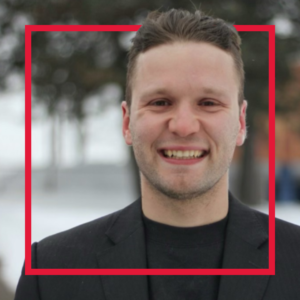 "York's Top 30 Under 30 is a community of changemakers," says Julie Lafford, executive director, Alumni Engagement. "Driven by passion, they create positive change and are outstanding representatives of the university, reflecting the high calibre of York alumni."
York alumni take the education, skills and support they receive at York and develop a strong sense of purpose, a desire to create positive change, and a long-standing commitment to the public good. Those qualities are all evident in the young alumni selected.
This story was originally announced in yFile. You can also view profiles of the full 30 under 30 list.