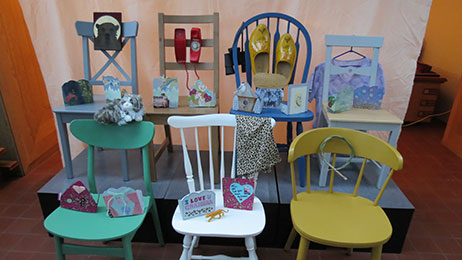 Created by professor Davies, in collaboration with Hiroki Tanaka and Kohen Hammond, this exhibit is about long-term care and the people whose lives were impacted by COVID in long-term care. It is also one of the first public commemorations of lives affected by the COVID-19 pandemic. Seven painted wooden chairs are each adorned with personal effects and mementos representing the lives of the interviewed subjects and their families. Each chair also stands in for hundreds – perhaps thousands – of Canadians who have also suffered under COVID.
The chairs also feature recordings of interviews conducted in the Fall of 2021 and tell of painful separations and devastating losses but also inspiring stories of accomplishment, bravery, and good times in lives lived.
Read the full Toronto Star article.
Visit professor Davies' COVID in the House of Old website.
Get in touch with Prof Davies
COVID in the House of Old opens at VIRL's Harbourfront branch July 28: Exhibit drawing attention to COVID's impacts on seniors in care coming to Nanaimo library - story featured in Nanaimo News Bulletin.