Contemporary Slavery Popular Rhetoric and Political Practice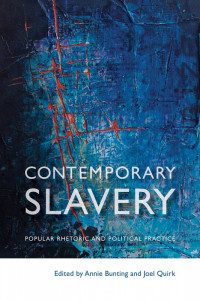 Year of Publication: 2017
Publisher website
Co-Editor: Annie Bunting
Contemporary slavery has recently and unexpectedly emerged as a source of both popular fascination and a spur to political mobilization. This volume brings together a cast of leading experts to carefully explore how the history and iconography of slavery has been invoked to support a series of government interventions, activist projects, legal instruments, and rhetorical performances. However well-intentioned these interventions might be, they nonetheless remain subject to a host of limitations and complications. Recent efforts to combat contemporary slavery are too often sensationalist, self-serving, and superficial; and therefore end up failing the crucial test of speaking truth to power.
The widely held notion that anti-slavery is one of those rare issues that "transcends" politics or ideology is only sustainable because the underlying issues at stake have been constructed and demarcated in a way that minimizes direct challenges to dominant political and economic interests. This must change. By providing an original approach to the underlying issues at stake, this book will help readers understand the political practices that have been concealed beneath the popular rhetoric and establishes new conversations between scholars of slavery and trafficking and scholars of human rights and social movements.
Contemporary Slavery will be of interest to students and scholars of international law, human rights and social movements, along with civil society activists and policy-makers.