Debating Hate Crime: Language, Legislatures, and the Law in Canada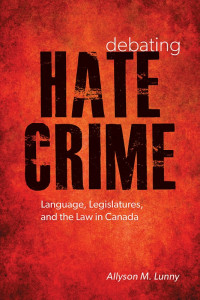 Year of Publication: 2016
Publisher website
Author: Allyson M. Lunny
Debating Hate Crime examines the language used by parliamentarians, senators, and committee witnesses to debate Canada's hate laws. These lively legislative debates and committee hearings reveal much about party politics, public policy, and social issues.
Allyson Lunny explores how the tropes, metaphors, and other linguistic signifiers used in these debates expose the particular concerns, trepidations, and anxieties of Canadian lawmakers and the expert witnesses called before their committees. In so doing, Lunny reveals and interrogates the meaning and social signification of the endorsement of, and resistance to, hate law. Specifically, she examines three legislative areas: criminal hate propaganda, section 13 of the Canadian Human Rights Act prohibiting the telephonic communication of hate messages, and the enhanced sentencing provision of the Criminal Code. Often much larger than liberal concerns over freedom of speech and expression, these debates articulate and imagine risk and threat beyond libertarian concerns. The result is a rich historical and analytical account of some of Canada's most passionate public debates on victimization, rightful citizenship, social threat, and moral erosion.
This unique work will appeal to socio-legal scholars and graduate students interested in hate crime, policy-making, and discursive analysis.