Helga Gonzalez Leyton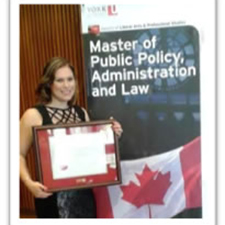 2014
Service Canada Benefits Officer
Government of Canada
Tell prospective students a bit about the work you do.
I currently work for the Department of Employment and Social Development Canada (ESDC) as a Service Canada Benefits Officer where I review, adjudicate and process applications for the Old Age Security pension. I have been working for Service Canada, an initiative of ESDC, since 2007. The part time and evening classes of the MPPAL program allowed me to pursue this degree while continuing to work full time. At Service Canada I have held several positions, ranging from pensions call centre agent, to in-person centre service officer, to a processing officer in the payment and processing branch - all working towards the delivery of federal government services and programs to citizens.
I enjoy many aspects of my job as it's at the heart of serving Canadians and making a small but significant difference at various stages and needs in their lives. Examples of these include issuing new immigrants their first Social Insurance Number so they can start seeking employment, assessing a Canada Summer Jobs application for employers so that a student can be hired during the summer months, assisting a client with their Employment Insurance benefits application and claim, and submitting a senior citizen's claim for their pension.
Tell prospective students a bit about how your studies at York helped you to get where you are today.
My studies at York while completing the MPPAL program have opened more doors for the types of jobs I can apply for. During my second year of studies I obtained a temporary position where I was able to learn more about a different area of my department. Shortly after I graduated, I secured my current position where I am able to apply the skills and knowledge gained from the MPPAL program, particularly those dealing with administrative law, protection of privacy and access to information, ethics, public finance and public administration.
The Leadership and Human Resources Management second year course from the MPPAL program captured my interest in human resources management. The program provided me with a strong foundation for further education in that field which I have pursued since graduating.
As an executive member and president of the Graduate Student Association of Public Policy, Administration and Law (GSAPPAL) I gained valuable insights into leadership, teamwork and being a student advocate. A fruitful aspect of taking the MPPAL program is the friendships and networks developed with colleagues who work in various fields and levels of government. You graduate with a strong network of individuals that will add value to your career advancement.