Sandra McEleney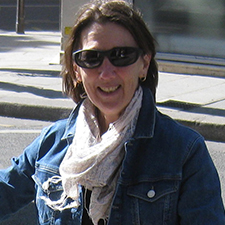 2018
Transit Planner
The Region of Durham
Tell prospective students a bit about the work you do.
As transit planner for the Planning and Economic Development Department at the Region of Durham, I help ensure that future developments are transit-oriented and reflect the goals of both the regional transit authority, Durham Region Transit (DRT) and those of the province, as represented by Metrolinx. One of the biggest challenges is from an urban design perspective as mixed-use developments which support transit are really just finding their footings in Durham, but these types of buildings are coming. The increased efforts to improve transit from all government levels is something to watch and I am excited to be a part of advancing transit in Durham.
Tell prospective students a bit about how your studies at York helped you to get where you are today.
Much of the work that I do involves policy review and development, especially when it comes to transportation policy work. For that reason, I chose to study at York. The University's Master of Public Policy, Administration and Law program was ideal for not just policy work, but also administrative and law training. These last two areas are the foundation for the planning work that I do, so this program really hit the mark. The fact that it was part-time allowed me to continue my work while studying. As a government professional seeking to advance her career, I can say that it helped give me both the confidence and credentials that I needed when seeking my recent promotion, a position two levels up from my previous role.