Sindiswa Moyo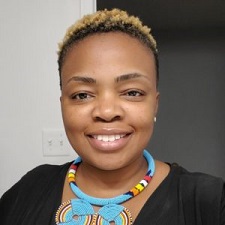 2020
Manager & Senior Advisor, Office of the Chief Planning Officer
Metrolinx
Tell prospective students a bit about the work you do.

My portfolio consists of program wide initiatives and special projects. I'm currently working on the Building Transit Faster Act (2020) file which consists of having clear sight lines of all the work the various internal and external teams are working on, ensuring consistency among all materials and connecting the dots. On this file I'm the conduit between the Ontario Ministry of Transportation and Metrolinx and the lead contact, which means all materials flow through me. Due to my universal knowledge of the file, I'm in the best position to quickly and easily develop briefing materials for the Minister's Office and Executives.
Tell prospective students a bit about how your studies at York helped you to get where you are today.

I perfected my presentation skills during the MPPAL program. At times Professors would ask us to create presentations on the fly, and that is how it is in the work environment (for me that is). The critical and analytical skills which I learnt from the various assignments are an essential part of my arsenal. Through the MPPAL program I've become a great researcher and given the tight deadlines I often have to work within, this has made my work efficient.