Tasha Oommen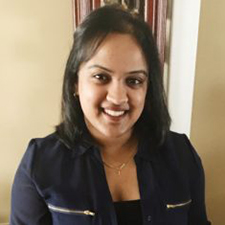 2019
Program Coordinator
Ontario Public Service
Tell prospective students a bit about the work you do.

As a Program Coordinator, I support program planning, issues management, and various analyses to ensure that services delivered by Ministry-funded programs adequately meet their legislative requirements and community needs. I also provide oversight of contractual agreements with transfer-payment recipients which are guided by various legislation pertaining to services offered in the violence against women and developmental disabilities sectors. My work provides a great balance between program planning/evaluation in the office as well as being in the community to better understand the direct impact of the programs funded by the Ministry of Children, Community, and Social Services. Most recently, my work has focused on ensuring continued service delivery in a safe and effective manner in shelter, group home, and other congregate settings in light of the various protocols that have been implemented due to COVID-19.
Tell prospective students a bit about how your studies at York helped you to get where you are today.

Although I was initially a little overwhelmed by the amount of group work, I found this to be one of the greatest learning opportunities over the course of the MPPAL program. I was fortunate to have partnered with highly knowledgeable and committed individuals who brought a diverse set of skills and perspectives to all the work that we undertook as a group. There was always room to bounce ideas off each other and test out different strategies in a way that is often not possible in the workplace. I strongly believe the emphasis on collaboration forced me to broaden my ways of thinking beyond a strictly government-focused approach, as the students in the program have diverse work/academic experiences in the public sector, not exclusive to the government.
The program evaluation and equity courses were the most relevant to my current employment. Although I was aware of program evaluation techniques prior to MPPAL, the course provided opportunities to demonstrate our knowledge in a practical way as we were required to select a program and develop our own program evaluation. Similarly, the equity course was eye-opening for me because in my role reviewing policies and ensuring programs are designed with an equity lens is essential. Being able to make reference to tangible and credible theories/theorists has boosted my credibility in conversations when I am considering how various policies may create or reinforce inequalities on a class or gender basis, for example.
Overall, my experience in the MPPAL program has given me a heightened level of confidence to take my career to greater heights as I have been equipped with so much knowledge and practical experience in a number of areas such as leadership, public policy analysis, administrative/constitutional law, etc.