Wesley Magee-Saxton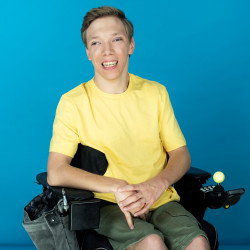 Wesley Magee-Saxton is a queer, disabled, Toronto-born actor, deviser, dancer, fighter, activist, and storyteller. He hopes to use his artistically inclined pursuits across any medium he can to inspire those within the disabled community and beyond to break down barriers of oppression and to recognize their own potential. He is currently completing his fifth year in the Department of Theatre at York University in the BFA Acting Conservatory program.
While at York, Wesley has had the honor of working with accomplished theatre practitioners such as Gwenyth Dobie, Paul Lampert, Eric Armstrong, Laurel Paetz, Erika Batdorf, Ines Buchli, Mark Wilson, and others. He has taken on the roles of a colorful cast of characters including Julius Sagamore in The Millionairess, Edgar in King Lear, Puck in A Midsummer Night's Dream, and Agamemnon in Iphigenia 2.0. Selected television and film credits include Ponysitters Club (Netflix). Dance credits include Outside Looking In for JNC Productions. 
Wesley has had fifteen years of Tae Kwon Do training (including combat and basic weapon training in tonfas and nunchucks), as well as training in contact improv, horseback riding, archery, and more. Utilizing the great potential of this profession for societal change, Wesley Magee-Saxton is determined to blaze a trail and shine a light on the voices of his community.
"I'm looking forward to seeing how we can change things together!"
Featured Shows
Vanier Improv Company (VIC)