Join a rich and active community of students, staff, and faculty in Professional Writing for one of the best undergraduate experiences around.
Why Professional Writing?
Professional Writing students, past and present, speak highly of their experience in the program.
They refer to the high-quality professional experience and skill development offered in the program as well as the amazing students, staff, and faculty they get to work with.
Check out our ever expanding repository of student reflections on the Professional Writing program.
Our students go on to excel in a variety of exciting professional positions. Professional Writing alumni have the following titles:
Digital Marketing Coordinator
Learning Experience Designer
Operations Specialist
Content Management & Development
Web Designer
Social Media Manager
Digital Project Manager
Scientific Writer
Technical Writer
Brand Ambassador
Creative Copywriter
Story Coordinator
Many students also pursue post-graduate degrees and diplomas. Recent graduates have gone into the following programs:
Publishing
Professional Writing
Rhetoric and Communications Design
Communications Studies
Marketing and Advertising
Creative & Digital Public Relations Strategy
Education
Library and Information Studies
Technical and Scientific Communications
Screenwriting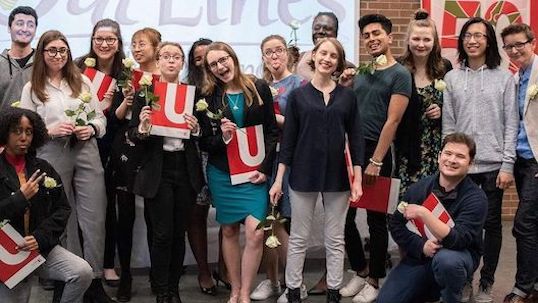 Programs & Degree Pathways
Develop expertise across the following areas of professional writing:
Writing in industry and organizations. Create clear, concise, effective documents that address issues, build networks and achieve results.
Digital writing. Create visually and sonically rich digital texts with high impact.
Periodical writing. Become a sought-after writer for magazines, blogs, newsletters, and websites.
Editorial processes and publications. Design, coordinate, and edit publications that engage with readers on both textual and visual levels.
Book publishing. Prepare, market and publish fiction, non-fiction, or anthologies of varied works.
Refine your skills through professional experience in our experiential capstone courses!
Our Community
A note from our faculty:
We're so excited to work and learn with you! We're committed to your success in the program and beyond.
We're always thinking of new ways to design courses that are as fun and interesting as they are challenging.
We love the ingenuity and dedication of Professional Writing students! Many of our students have won writing awards, received grants, and gained research assistantships - you can too!
See you in class!
A note from our staff:
We are always here ready to support you! We've got the answers to all of your questions, and we're only a phone call or email away.
We're always refining our communications to make sure you have precisely what you need to successfully navigate the program.
See you in South Ross!
A note from our students:
Join us! We're living it up in the program. We're super active in the Professional Writing Students' Association. Our student webzine, Inventio, is an amazing space to get your work published. A lot of us are also working hard on Existere, a literary journal we run with faculty advisors. There's so much for you to do (along with studying). There's never a dull moment!
We're always here for each other, which makes such a big difference at a big school like York.
See you on Instagram!