With its curved building lines, anodized aluminum panels and tower and podium form, York University Markham Campus (MC) has been designed to be noticed.
The new $275.5 million campus, the biggest expansion project undertaken by York University since the development of the central Keele Campus more than 40 years ago, is scheduled to open in the fall of 2023, with a first phase accommodating a projected 4,200 students.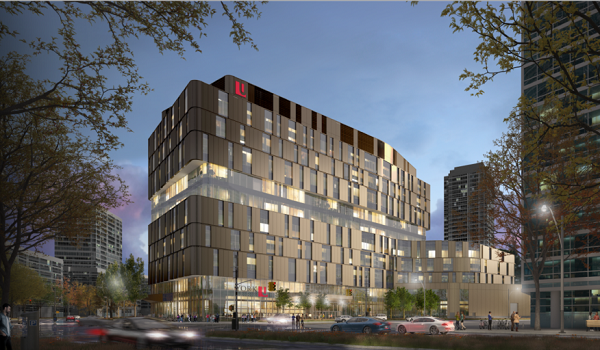 Situated in the heart of the City of Markham, the campus will be located on approximately 4.5 acres of land bounded by Enterprise Boulevard and Rivis Road.
Diamond Schmitt Architects, working in consultation with York University, created a design that brings together social justice values, sustainability and high tech within a seamless whole. The building and surrounding landscaped areas derive from a series of architectural design principles, explains the project's Managing Principal Architect Greg Colucci, each supporting and strengthening York University President and Vice-Chancellor Rhonda L. Lenton's overarching vision for the new campus – a destination focused on accessibility, connectedness, impact and excellence. Here's how:
Accessibility
The overall design of this accessible building creates a collegial academic community for faculty, staff and students within a series of interconnected, multi-storey spaces for community gathering and interaction.
Bright and natural light binds the stacked campus together, featuring large and small common areas encouraging student interaction throughout the building.
Academic learning and research spaces are highly flexible, allowing various modes of curriculum delivery.
A range of design features enable access to those with disabilities including induction hearing loops, tactile warning strips, universal washrooms on every floor, additional clearances around doorways and many other features.
Through its proximity to the Unionville transit hub, highway 407, major roads, bicycle paths and the Rouge Valley Greenway, the site is accessible to students, staff and faculty from across York Region and beyond.
Connectedness
The building is open, transparent and a vertical, accessible campus that is fully integrated with Markham's diverse and growing network of commerce, athletics, arts, and entrepreneurial activity.
Interconnected, multi-storey interior spaces link to the sloping Campus Green at each of the building's first three levels: creating a continuous sequence of informal interior and exterior public spaces.
The Campus Green provides a unique outdoor focal point for social gathering, Indigenous learning and respite. Low-incline curved pathways connect with a nearby civic athletic centre, transit hub, cinemas and commercial district.
Impact
The building's organic form distinguishes the University campus as a landmark within Markham Centre, providing a softer, welcoming appeal to those who use it and pass by.
Elevated floor-to-floor heights; permeability and transparency at grade levels; variegated patterns of vision glass and bronze anodized aluminum panels; deep building recesses at mid-levels and curved building lines in plan are specific details that further distinguish the University building within its context.
Excellence
Significant sustainable features are embedded in the design to reduce the building's carbon footprint and lower energy consumption through its operation.
Through a design focused on student life and connection with the community, this sustainable, state-of-the-art campus provides a landmark destination that will serve as a catalyst for this rapidly growing region and be an inspiration for the next generation of post-secondary learning.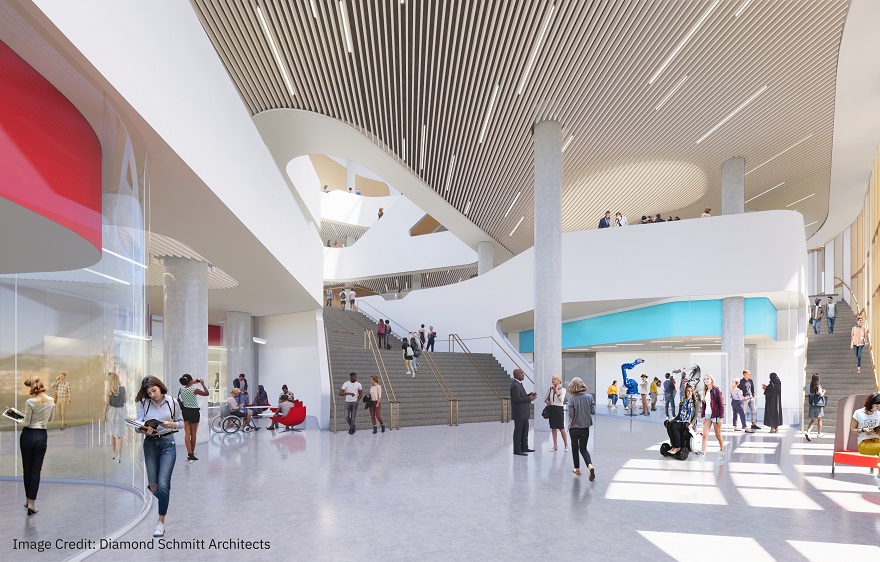 "I think the design is very effective in fulfilling the objectives set by President Lenton", says Colucci." The new campus will be a dynamic, distinctive, highly accessible and enjoyable learning environment for students and faculty."
The 10-storey building will also include a large multifaith space equipped to enable smudging ceremonies and an outdoor learning circle surrounded by sacred plant species indigenous to the region. The campus site will also feature designated accessible parking, service dog relief areas and exterior wheel-chair friendly ramps throughout landscaped areas to enable people with disabilities to access all parts of the campus common.
Energy efficiency is also built into the design to achieve Canadian Green Building Council Leadership in Energy and Environmental Design LEED Silver as a minimum sustainability standard. The plan is to add more sustainable elements to the building going forward, including student engagement and wellness areas, to allow the building to attain LEED Gold certification status.
I think that once open, we will have a really beautiful and functional building," says YUDC President Gary Brewer, who is managing the delivery of the new MC project for the University. "It's going to be an iconic structure that I think will showcase well in Markham Centre, and make all of us at York feel proud."