TORONTO, October 19, 2017 – York University's eighth President and Vice-Chancellor, Rhonda L. Lenton, was formally installed at a moving ceremony during the first day of York's Fall Convocation, yesterday. Together with Chancellor Gregory Sorbara and Board of Governors Chair Rick Waugh, President Lenton spoke the solemn oath of office.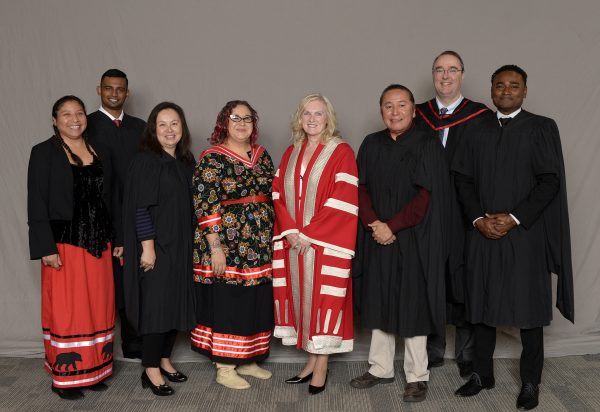 During her first formal address, the new president set out her vision for York's future, outlining four pillars that will underpin the work of the university during Lenton's five-year term.
"We stand together at a moment when Canada has the opportunity to be a leader in mobilizing an inclusive response to the complex problems facing the world," said Lenton, "York can contribute much and I believe our success will rest on four pillars: access, connectedness, excellence and impact."
President Lenton will be sharing details about how each of the four pillars will be supported in the coming weeks and months. Representatives from Canada's Universities, York's Presidents Emeriti, Alumni, Students, Faculty, Staff and Indigenous leaders also brought congratulatory greetings.
Lenton concluded with positive words of hope for the future, "Canada today is an ideal platform from which to leap into the world and change it for the better. I have never been more certain that York is the university to create and lead that change. York's motto is tentanda via: the way must be tried. I believe the best is yet to come."
York University is known for championing new ways of thinking that drive teaching and research excellence. Our students receive the education they need to create big ideas that make an impact on the world. Meaningful and sometimes unexpected careers result from cross-discipline programming, innovative course design and diverse experiential learning opportunities. York students and graduates push limits, achieve goals and find solutions to the world's most pressing social challenges, empowered by a strong community that opens minds. York U is an internationally recognized research university –our 11 faculties and 26 research centres have partnerships with 200+ leading universities worldwide. Located in Toronto, York is the third largest university in Canada, with a strong community of 53,000 students, 7,000 faculty and administrative staff, and more than 295,000 alumni. York U's fully bilingual Glendon campus is home to Southern Ontario's Centre of Excellence for French Language and Bilingual Postsecondary Education.
-30-
Media contact:
Barbara Joy, Director, Media Relations, 416-736-5593, barbjoy@yorku.ca
Background materials: