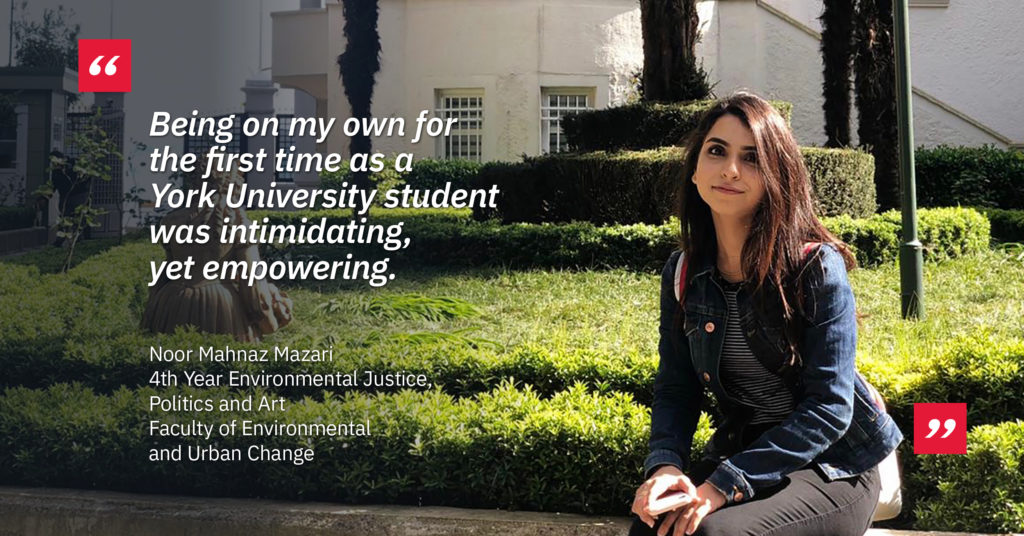 "When I moved to Canada at a young age, there was a whole new world of possibilities. I felt free to choose my destiny and path in life. I came from a place where social injustice, environmental disregard and inequalities defined society. Today, as an Environmental Studies major, I am using my knowledge and experience to create a world where sustainability, justice and equality are the norm.
I grew up in a protective and conservative atmosphere. Being on my own for the first time as a York University student was intimidating, yet empowering. Being denied opportunities on the basis of gender and race left me feeling diminished, unsure about myself and struggling to find my voice. Malala Yousafzai was an inspiration to me, she helped me realize that struggle and challenges only make you stronger if you continue your journey.
At York, I feel supported and encouraged. My professors have a keen interest in the intellectual development of their students. Their passion for the environment has fueled my drive to follow in their footsteps. Recently I had the opportunity to use my classroom education in the real world, by interning in the Sustainable Agriculture & Food Program at the World Wildlife Fund (WWF). I helped write a research paper on Food waste and loss in the hospitality sector of Lahore, Pakistan. This was the first research study of its kind. At WWF, I contributed to a higher goal, and it gave me a sense of fulfillment and purpose. It motivated me to continue in this field in the future. Not everyone has the opportunity to get a university education, I feel truly blessed to be at York University."
Noor Mahnaz Mazari
4th Year Environmental Justice, Politics and Art
The Faculty of Environmental & Urban Change (EUC)