Kenzie Allen | Mapping Wampum: Storytelling and Sovereignty in Indigenous Poetry
How might one tell a story, or map a story, in a way that enacts personal and cultural sovereignty? This poetry reading and craft talk will share research, stories, and methods, from Wampum, an ethnographic manuscript-in-progress of poems about an Indigenous Oneida of Wisconsin family and their intergenerational journeys across borders and continents. Wampum draws upon oral and written histories, Haudenosaunee cosmologies, and archival materials of the Carlisle Indian Industrial Boarding School, as well as the techniques of documentary and multimodal poetics, to disrupt colonial expectations and reemphasize lived experiences, to create transformative narratives of resilience, resistance, and strength.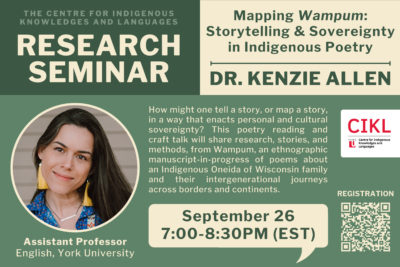 Location: York Lanes 280N
Part of the 2022-2023 CIKL Research Seminar Series.