CCDM 2021 China-Canada Symposium on "Modelling, Prevention and Control of Infectious Diseases"
14 September 2021
@
8:00 pm
-
19 September 2021
@
4:30 am
UTC
This is the Canadian Centre for Diseases Modelling (CCDM) 2021 Canada-China symposium hosted by Northeast Normal University, jointly organized by CCDM, Center for Mathematical Bioscience (CMB) and Chinese Society of Mathematical Biology (CSMB). The symposium is supported by Tianyuan Mathematics Exchange Project of National Natural Science Foundation of China (NSFC).
Scientific/Organizing Committee
Co-Chairs:
Meng Fan (Northeast Normal University, CMB)
Huaiping Zhu (York University, CCDM)
Jingan Cui (Beijing University of Civil Engineering and Architecture, CSMB)

Members:
Julien Arino (University of Manitoba)
Jacques Bélair (Université de Montréal)
Jane Heffernan (York University)
Zhen Jin (Shanxi University)
Michael Yi Li (University of Alberta)
Wei Lin (Fudan University)
Wendi Wang (Southwest University)
James Watmough (University of New Brunswick)
Dongmei Xiao (Shanghai Jiaotong University)
Yanni Xiao (Xi'an Jiaotong University)
The detailed information can be found below.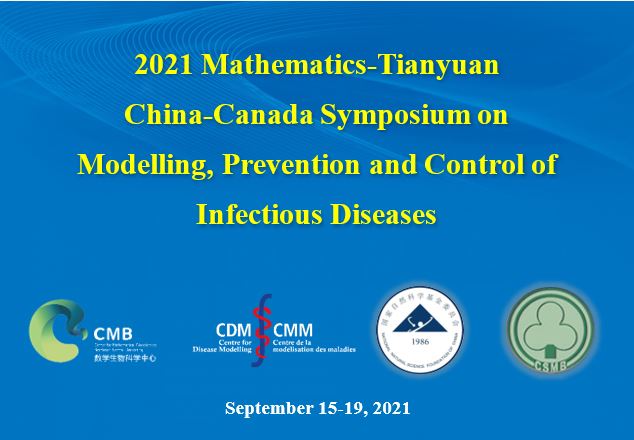 Event Website: