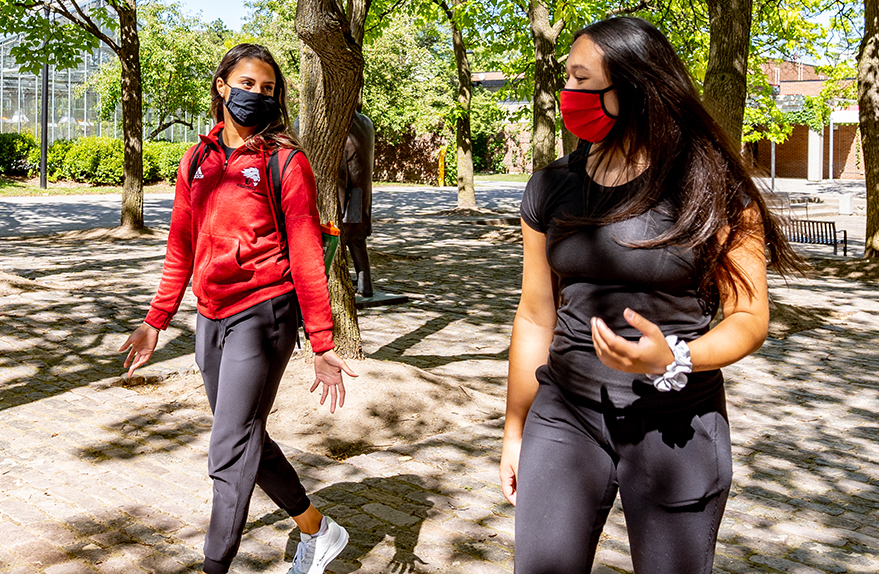 The "I Heart YU" Student Engagement Video Contest
LIGHTS! CAMERA! ACTION!
Get your cameras and phones charged up because it's movie making time.
We're looking for your short, fun, creative, and informative videos that encourage students to follow COVID health and safety guidelines including wearing masks indoors and following social distancing rules.
This contest is open to all current York University students.
Check out all the official contest rules here and read the guidelines below on how and what to submit, plus prize details.
Video Details
VIDEO LENGTH: Your video should be between 45 seconds and 2 minutes

VIDEO MESSAGE/THEME:
Your video should provide positive encouragement for mask wearing, social distancing, as well as other health and safety guidelines related to COVID-19.
Your video should incorporate the "I Heart YU" theme and convey an overall sense of a positive, caring community that looks out for one another and works better together.
You are free to determine the style of your video, shooting location, and other creative details so long as all public health directives are adhered to during production.

VIDEO FORMAT:
File must be formatted to be able to be uploaded to YouTube.
All YouTube licensing restrictions including use of copyrighted music will need to be considered when submitting a video.

RESTRICTIONS:
Videos that contain the following content will not be considered for the contest:
Use of profanity, violence, or other acts deemed inappropriate
Messaging that does not encourage the importance of promoting a COVID-safer community
Footage taken from other content without the permission of the creator

How to Enter
There are 3 categories for submission:
Residence-based: Students in residence life are asked to create videos that highlight the health and safety guidelines as they pertain to living in one of York's residence buildings. Each building will be responsible for one video submission.

Recognized Student Team: Student organizations registered with Student Community & Leadership Development (SCLD), departmental peer mentor groups, and varsity sports teams may submit a video on their respective group's behalf. The video should be in relation to how a team emphasizes health and safety, not only for themselves, but also the community they serve.

Individual student(s): Any student or group of students (outside of group b above) may submit a video that demonstrates the importance of the health and safety guidelines as they relate to coming to campus and being part of the York community.
Videos must be submitted via http://dropbox.yorku.ca/ by 11:59pm on Friday, October 29 to scld@yorku.ca. A panel of internal judges will review all submissions and vote on a short list of 5 videos per category.
Prizes
For each category there will be a 1st place prize of $500 and a 2nd place prize of $200.
Video Consent Form
All persons appearing in a video submission are required to sign a York University video consent form. You DO NOT need to submit these forms with your contest entry, but please have them on hand in case they are requested.