David Semaan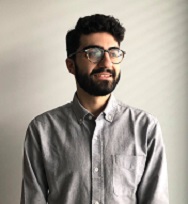 "My aspiration for this position is motivated by my commitment to governance that raises the ethical bar and lives up to York's standards"
As a doctoral degree student studying politics at York University, David Semaan is passionate about issues of governance.
In fact, he joined York's Board of Governors to collaborate with others who are passionate about the impact governance decisions can have on issues that matter to the University.
David earned his undergraduate degree in political science from the University of the Fraser Valley. He also earned a master's degree in political science from University of Alberta, where he worked as a graduate teaching assistant and graduate research assistant.
David has also delivered regular guest lectures at the University of the Fraser Valley and Douglas College, where he teaches classes on multiculturalism and critical race theory.
A student in the Department of Politics, Faculty of Liberal Arts & Professional Studies (LAPS) since September 2020, David previously served as a doctoral student representative on LAPS Faculty Council.
He has also been involved in the CUPE 3903 Ways and Means Fund committee, a group that is responsible for adjudicating and distributing emergency funds for graduate students facing financial hardship.
A major highlight of David's academic life is building rapport with students, fostering a collegial learning environment, and investing in various pedagogical methods that inspire feminist and decolonial practices. It is his goal to develop pedagogical methods for the purpose of critical inquiry geared toward social action.
Outside of academia, David taught a workshop in February 2021 for Correctional Service Canada's Symposium on Diversity and Inclusion titled "The Transformative Impact of Active Listening and Inquiry in the Workplace."
As a member of the Board of Governors, David aspires to find common goals with colleagues that advance the interests of students and adhere to democratic principles of deliberations that seriously engage with the interests of other board members. He is also focused on advancing York's commitments to equity, accessible education, positive community contributions, and racial and gender justice.
David was appointed to York's Board of Governors on July 1, 2021.