Gregory Sorbara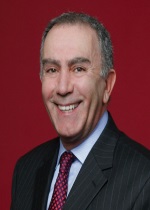 "My years at York University were transformational. They set the course for everything that followed in my life."
Greg Sorbara, BA'78, LLB'81, LLD'13, was 30 years old in 1976 when he continued his liberal arts degree at Glendon College, York University's bilingual campus. Greg then went on to study the law, earning his degree from Osgoode Hall Law School in 1981.
Greg credits his York experiences with helping to shape his 21-year career in public service, serving as a Member of Provincial Parliament in Ontario from 1985 to 1995, and again from 2001 to 2012. His distinguished political career also included several cabinet portfolios, most notably as the Minister of Finance. Greg's landmark 2005 Ontario Budget included a bold and progressive plan to increase access to post-secondary education for low-income students, while also boosting funding to support enrolment, faculty, scholarships and research.
As the Minister of Colleges and Universities from 1985 to 1987, Greg became a determined advocate for the subway extension to York's Keele Campus. He marked the victory for York students and community members decades later when, as Minister of Finance, the subway extension was approved by all three levels of government in 2007.
Greg's passion for enhancing the lives of Ontarians was formally recognized by York in 2013 when he was awarded an honorary degree. Initially appointed as York University's 13th Chancellor in 2014, Greg currently is serving his second term in the role.
Since leaving politics in 2012 Greg has been engaged with his family's real estate firm. He is the Chair of the Advisory Board of The Sorbara Group of Companies.
Greg has volunteered as a member of York's Alumni Association Board and as a member of the York Circle Advisory Council. He is currently chair emeritus of the Mackenzie Health Foundation Campaign Cabinet, and a member of the board of directors of the Luminato Festival, The Ontario Arts Foundation and the Prince Edward Country Affordable Housing Corporation.