Joanie Cameron Pritchett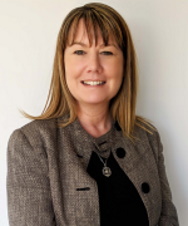 "I'm proud to have served the York community for over 25 years as a student, employee, volunteer – and even as a camper!"
When Joanie Cameron Pritchett announced her decision to not seek re-election after 13 consecutive terms as president of the York University Staff Association (YUSA), she sent a heartfelt message to the more than 2,500-strong membership: "There are more victories than I can count and some very grueling experiences I will never forget. All of the time spent doing this work has been a tremendous adventure and opportunity."
York University and adventure have always gone hand-in-hand for Joanie, whose earliest memories of campus are of summer Sports Camp and the 1970s Chancellor Day events she attended with her mom, a York staff member.
"It felt like a large family reunion for all of the community of YorkU," she remembers.
In 1988, Joanie landed a part-time summer job in York's Registrar's Office, which eventually led to her more than 25-year-long adventure spent serving the York community as an employee, volunteer and alumna.
Joanie earned her Master's degree in Alternate Dispute Resolution from Osgoode Hall Law School in 2016. The director of community support and services in the Office of Student Community Relations, she oversees York's Centre for Sexual Violence Response, Support & Education, providing a critical first point of contact for members of the York community who have experienced sexual violence.
As YUSA's president, Joanie managed a $3 million budget and negotiated multiple collective agreements on behalf of York's staff. From 2009 to 2013, she also served as president of the Confederation of Canadian Unions, the largest organization of independent unions in the country.
Among many leadership and community service awards, Joanie was a member of the team that received a York University President's Staff Recognition Award in 2019.
She was re-elected to the York University Board of Governors for a second term effective July 1 2022.