Julie Lassonde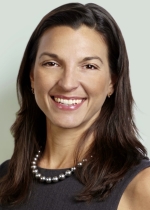 "As a board member, I appreciate the positive impact York University makes at a local, national and global level, and I am proud to serve as an enthusiastic ambassador."
With over 20 years in a variety of senior financial, advisory and engineering roles, Julie Lassonde says it was her tenure at the helm of a diamond mine in Canada's North that taught her the most about leadership – and the major issues facing today's Canadian university graduates.
"It brought into sharp relief how vast a country Canada really is and I began to understand some of the major issues we face with respect to our Indigenous Peoples," she says.
A seasoned board member, Lassonde is currently on the board of GMP Capital Inc., a Toronto-based investment dealer and asset manager with more than $28 billion in assets under management, where she serves as Chair of the Governance Committee. Her past board appointments include more than a dozen junior exploration and mining companies.
Lassonde's ties to York University include a deep history of giving as a member of the Pierre Lassonde Family Foundation. She also serves as president of the Canadian Engineering Memorial Foundation and on the boards of the Royal Ontario Museum and the National Gallery of Canada Foundation.
She holds a civil engineering degree from Queen's University and an executive MBA from Brown University and IE University.