Konata Lake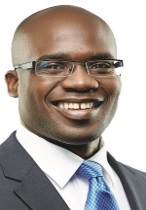 "York has always been a very special place for me. I understand the student life experience and those living in the surrounding community. I know firsthand how a York education can transform lives."
A three-time York University graduate with degrees in law and business administration, at the undergraduate and graduate levels, Konata Lake's connection to York began as a local high school student-athlete who trained at the University's track facilities. From those earliest days until his graduation from the joint JD-MBA program in 2008, Konata spent almost every day at York University.
Today, he is one of Canada's rising stars in mergers and acquisitions law. In 2016, Konata was awarded the Osgoode Alumni Gold Key within the one-to-watch category, followed in 2017 by the Precedent Setter Award from Precedent Magazine. In 2018, he was named to the partnership of international business law firm Torys LLP.
During his student years, Konata was a student member on York's Board of Governors, a member of the York Federation of Students, chair of the York University Student Centre Corporation, and a board member of Excalibur Publications, York's community newspaper. He was also a varsity track athlete.
"York was an integral part of my formative years," he says, "and has given me more than I will ever be able to give back."
It's why he agreed to serve on the York University Board of Governors, a position he has held since 2016, as a member of the Osgoode Law School Alumni Board of Directors and as a member of the Osgoode-Schulich JD-MBA Alumni Association Steering Committee. In these leadership roles, Konata aims to help York forge deeper connections with the local community. He's especially proud of the Board of Governors' role in the opening of the York University subway station.
Off-campus, Konata has served on the boards of Inner City Outreach and Regent Park Community Health Centre. He is a member of the Ontario Bar Association.