If you have not changed your password in over a year you may need to change it now. Follow the instructions below to change your password:

Close all open browser windows.
Start up web browser and go to mms.yorku.ca
Click on the check box beside "Click this box before logging into to change your Passport York password". Log in using your current Passport York username and password. Follow the prompts to change password. Note: Password can only be 7 or 8 characters long and may not contain a semi-colon (;) or double quotes (").
Wait around 10 minutes before connecting to AirYorkPLUS.

If you have forgotten your username or password then follow the instructions to reset your Passport York password.
This is due to a mis-configured Wi-Fi client profile. Delete the Wi-Fi profile for AirYorkPLUS from your device and then recreate it.
Use the the AirYorkPLUS Setup Application tool if your computer is MS-Windows.
Not all on-campus buildings have AirYorkPLUS coverage at this time. Ensure your device is in an AirYorkPLUS service location. AirYorkPLUS coverage will be progressively expanded throughout the University as the network access upgrade project progresses.
If you see the following message, it means you have not followed the AirYorkPLUS configuration instructions fully. However, you can still connect to AirYorkPLUS and not see this message again by clicking on the Details arrow and verifying the following:
Radius Server: authenticate.yorku.ca
Root CA: GlobalSign Root CA
Once verified, click Connect.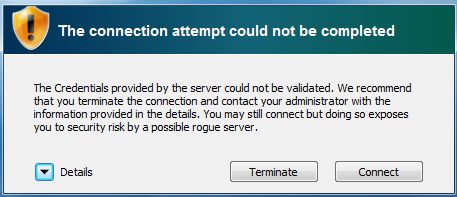 For best performance, particularly In high-density settings such as lecture halls and libraries, you need to ensure that the Wi-Fi radio in your client device is capable of supporting the performance features of AirYorkPLUS. Your experience of Wi-Fi performance on-campus may suffer if your wireless client device cannot operate in the 5 GHz radio band, and if it does not support the IEEE 802.11n protocol. For more information on how to achieve optimal Wi-Fi speeds at York, please consult UIT's recommendations on selecting / purchasing a Wi-Fi client device.
UIT no-longer supports the use of 802.11b Wi-Fi. The 802.11b protocol is very inefficient at sharing the radio channel among many concurrent users of the network. The presence of active 802.11b clients reduces network performance for all other users of Wi-Fi. Because of the of high-densities of Wi-Fi clients on-campus, 802.11b is not suited for use at York.