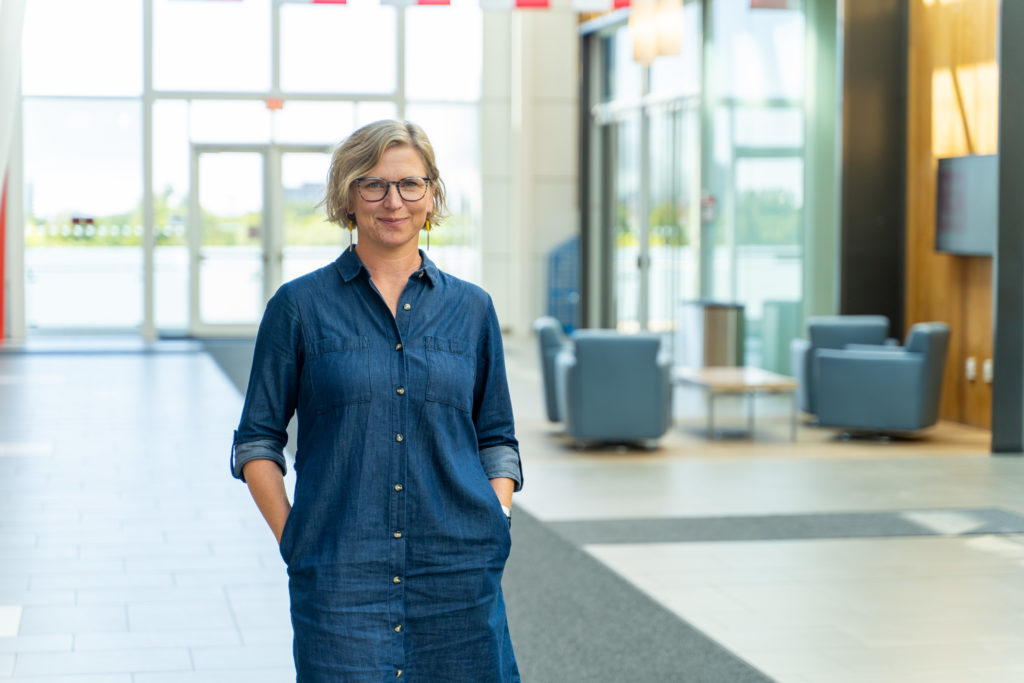 Pictured here: Dayna Scott
Building momentum around new conceptions of Indigenous jurisdiction and transforming Canadian constitutionalism
Some see the extraction of battery metals from Ontario's far north "Ring of Fire" as a green path to the province's biggest economic windfall in a generation.
Dayna N. Scott sees it differently.
The Associate Professor at Osgoode Hall Law School of York University and the York Research Chair in Environmental Law & Justice in the Green Economy fears instead that the 5,000-square-kilometre crescent in the environmentally sensitive Hudson Bay Lowlands could become a quagmire for Indigenous rights and environmental protections.
The area – which is believed to contain huge deposits of minerals that will power the green economy like nickel, cobalt and chromium – lies on the traditional homelands of the Matawa First Nations. And the peat-rich wetlands that cover the Hudson Bay Lowlands – known by First Nations as the "breathing lands" – act as an enormous carbon sink, helping to stave off the impending climate crisis.
"But nothing about the way the situation is playing out is giving me confidence that Canada is going to meet the high standards (that are necessary) with respect to protecting the peatlands or Indigenous rights," Scott recently told the Reuters news agency.
Those standards are enshrined in the United Nations Declaration on the Rights of Indigenous Peoples (UNDRIP) and require free, prior and informed consent (FPIC) from Indigenous communities affected by mining development. In its 2015 final report, the Truth and Reconciliation Commission of Canada called on governments and the corporate sector to adopt UNDRIP as a reconciliation framework. The federal Parliament's United Nations Declaration on the Rights of Indigenous Peoples Act received royal assent in June 2021 and came into force, but an action plan is still being developed with a deadline of June 2023.
Scott's research is devoted to building momentum for implementing new conceptions of Indigenous jurisdiction that can transform Canadian constitutionalism.
Cross-appointed with Osgoode and York's Faculty of Environmental Studies & Urban Change, she also serves as co-director of Osgoode's Environmental Justice and Sustainability Clinic.
She is currently the co-principal investigator, with Professor Heidi Kiiwetinepinesiik Stark of the University of Victoria, of a project called Jurisdiction Back: Infrastructure Beyond Extractivism, funded by a Social Sciences and Humanities Research Council (SSHRC) Partnership Grant. The initiative includes 14 academics and land defenders from across the country pursuing research into how a just transition to sustainable economies can be imagined and structured to restore Indigenous jurisdiction, laws and governance systems.
In addition, Scott has been the primary investigator on several other SSHRC-funded projects, including Consent & Contract: Authorizing Extraction in Ontario's Ring of Fire with Osgoode colleagues Andrée Boisselle, Deborah McGregor and Estair Van Wagner. 
"I imagine a mode of relating for settler and Indigenous legal orders that is not inevitably colonial," she wrote in the description of a March 2020 talk she gave for Canadian Climate Challenge, a Toronto-based non-profit.
"Instead of collision and conflict," she added, "it is imagined as a plural legal order based on Treaty principles. To achieve it, we will need explicitly anti-colonial tactics – breaking down and working against the colonial structure of prevailing legal regimes designed to further extractivism by denying Indigenous jurisdiction."
Click on the icons below to learn how York University is contributing to the United Nations Sustainable Development Goals.