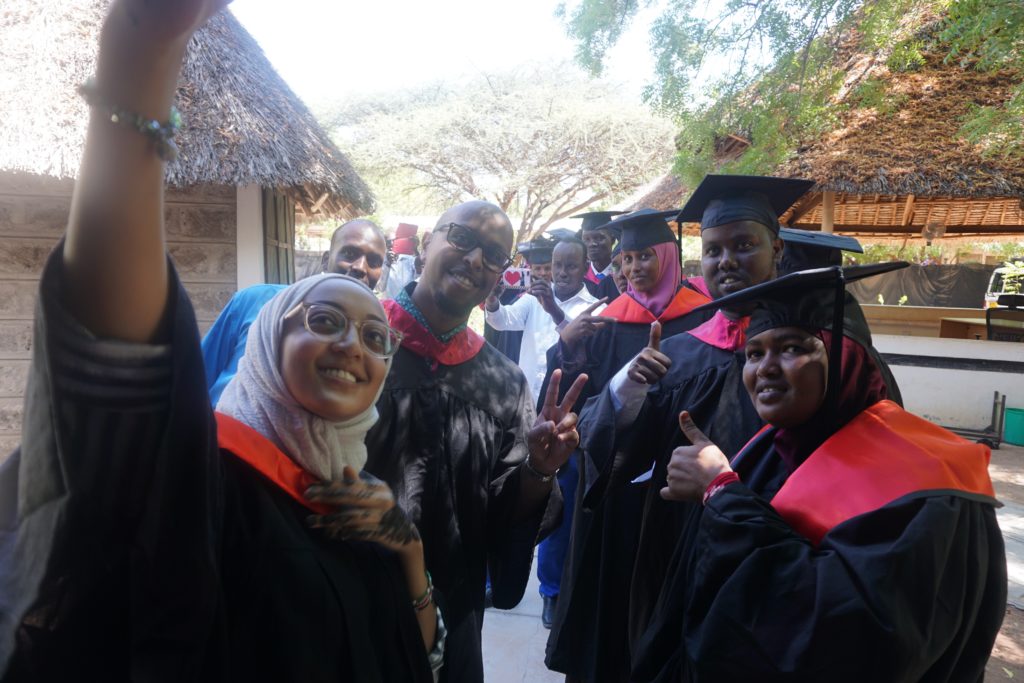 Pictured here: Group of York U graduates in Kenya
Making higher education accessible to refugees
Borderless Higher Education for Refugees (BHER), is a consortium of Canadian and Kenyan universities – including York University – and NGOs that aims to make educational programs available where refugees need them.  
Millions are displaced as a result of war, persecution, violence, instability, drought and environmental disasters in a world that is increasingly hostile towards refugees and asylum-seekers. Many are caught in displacement, often for ten years or more. Attending university or accessing other tertiary degree programs is nearly impossible, with only 3 per cent of refugees in the world able to access higher education (UNHCR 2019).
The project's goal is to provide accredited university programs to working, untrained refugee and local teachers in situ in Dadaab, Kenya, one of the world's largest and long-standing refugee encampments. In building the capacity of refugees and local teachers, they, themselves, are able to increase and improve education in the camps and local community. 
The BHER Project believes that the provision of quality higher education to refugees and locals will contribute to the conditions for justice, sustainability, and peace in Kenya, Somalia and the surrounding region.
Since 2013, BHER university partners have offered accredited certificate, diploma, undergraduate and graduate degree programs through online, on-site, and blended modes. All academic programs are offered free to refugees and local students served by BHER.  
Between 2013 and 2022, a myriad students finished one or more of the programs through York University and earned credentials. Despite the time difference and whenever possible, York also holds joint class sessions for education students in Toronto and in Dadaab, allowing them to connect virtually. 
For the past two years, York University's Faculty of Education, Centre for Refugee Studies, and the BHER Project have co-sponsored a speaker series with equally featuring experts from York University and institutions that are comprised of or work with refugees. Created by Rachel Silver, an assistant professor of education at York and BHER's co-director (with Professor Don Dippo), the series is entitled Reciprocal Learning Beyond Crisis, given the worldwide COVID-19 pandemic. 
"We're in this moment together, despite our different individual positions, different colonial histories, and different national public health and education system responses," Silver said. "It's an opportunity to learn from each other about how we make sense of and respond to a global crisis in distinct local contexts."
Click on the icons below to learn how York University is contributing to the United Nations Sustainable Development Goals.