Publications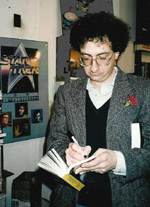 Tesseracts 4
launch
1992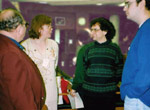 Dad, Lorna Toolis, and Robert Whiteley join me at the launch of
Arrowdreams
The Merril Collection, 1998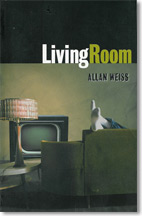 Cover of
Living Room
(2001)
Publications

Below is a list of most of my publications, both fiction and non-fiction, as well as links to some of my stories. I have not included details about book reviews and other short pieces.

I do love to play with language; perhaps the most obvious example of that in my writing is "The Domitable Knight Errant," which is based on the fact that English has a number of words that exist only with negative or other prefixes and suffixes. My story contains the root words that logically

should

exist but don't--or are obsolete or obscure. I've learned since writing the first draft of this that a similar piece (mostly involving idiomatic expressions) appeared in

The New Yorker

, and that this is called "back-formation" (for the pedants among you).


Fiction
Telescope (short stories). Toronto: Guernica Editions, 2019.

Making The Rounds (short stories). Edmonton: Edge Publishing, 2016.

Living Room. (short stories). Toronto: Boheme Press, 2001. (Publisher is defunct; all rights owned by author)
"A Tartan of Many Colours." Other Covenants: Alternate Histories of the Jewish People. Teaneck, NJ: Ben Yehuda Press, 2022. Available here

"Selfie." The Radiance of the Short Story: Fiction from Around the Globe. Ed. Maurice A. Lee and Aaron Penn. Lisbon: Humus, 2018. 721-28.
"Moving Day." Revue CMC Review 3.1 (2016)
"Bus Opera." Influence and Confluence: East and West: A Global Anthology on the Short Story. Ed. Maurice A. Lee. Shanghai: East China Normal School, 2016. 294-99.

"A Little Leavening." On Spec 26.3 (Fall 2014): 87-102.

"Lines." Unbraiding the Short Story. Ed. Maurice Lee. Charleston: CreateSpace, 2014. 346-51.

"Black Book." Bridges: A Global Anthology of Short Stories. Ed. Maurice Lee. [North Little Rock]: Temenos, 2012. 209-23.
"The Whole Megillah." On Spec 23.2 (Summer 2011): 50-69.
"Contracts."

Wascana Review

40.1-2 (Spring 2005 [copyright 2008]): 46-57.

"Making Light."

On Spec

19.1 (Spring 2007): 58-74.
"Heaven and Earth."

Tesseracts Nine

. Ed. Nalo Hopkinson and Geoff Ryman. Calgary: Edge, 2005. 361-76.

"The Missing Word." On Spec 13.2 (Summer 2001): 59-72.
Excerpt from Bread and Stone (a novel-in-progress). Rampike 12.1 (2001): 67-69.
"The Solomon Cheats." Tesseracts 7. Ed. Jean-Louis Trudel and Paula Johanson. Edmonton: Tesseract Books, 1998. 159-74.
"Exchange." On Spec 10.2 (Summer 1998): 17-28.
"The Last of the Maccabees." Arrowdreams. Ed. Mark Shainblum and John Dupuis. Winnipeg: Nuage Editions, 1998. 99-124.
"Fixed." NorthWords 3.1 (Spring 1996): 26-33.
"Journals." Prairie Fire 16.4 (Winter 1995-96): 97-107. Honourable mention, Speculative Fiction contest
"Living Room." Short Story 3.1 (Spr. 1995): 64-73.
"All the Birds That Fly." Windsor Review 27.1 (Spr. 1994): 3-13.
"Property." NeWest Review 18 (Aug.-Sept. 1993): 13-16.
"The Domitable Knight Errant." Communique 12 (May-June 1993): 6-7.
"Ants." Tesseracts 4. Ed. Michael Skeet and Lorna Toolis. Victoria: Beach Holme Press, 1992. 108-23. Nominated for an Aurora Award for best Canadian SF short story.
"Minorities." Fiddlehead 172 (Summer 1992): 35-48.
"The Doorknob." Green's Magazine 16:1 (Aut. 1987): 7-16.
"Jean Beliveau Was Number Four." Loomings 1.1 (1979): 2-12. Rpt. Short Story International: Seedling Series 4.13 (March 1984): 5-12.
"Tuparosh." Space and Time 40 (Jan. 1977): 14-20.
"Satanesque." Fantasy and Terror 1:6 (1974): 24-28. Rpt. Year's Best Horror Stories III. Ed. Richard Davis. New York: Daw Books, 1975. 98-108.
Non-Fiction
Books
The Mini-Cycle. London: Routledge, 2021. Available here
The Routledge Introduction to Canadian Fantastic Literature. London: Routledge, 2021. Available here

Editor, The Canadian Fantastic in Focus: New Perspectives. Jefferson NC: McFarland, 2014.

Editor, Perspectives on the Canadian Fantastic: Proceedings of the 1997 Academic Conference on Canadian Science Fiction and Fantasy. Toronto: ACCSFF, 1998.
[With Dean Baldwin]. Instructor's Resource Manual. The Riverside Anthology of Short Fiction: Convention and Innovation. Boston: Houghton Mifflin, 1998.
[Co-Editor,] Out of This World: Canadian Science Fiction & Fantasy Literature. Comp. Andrea Paradis. Kingston: Quarry Press; Ottawa: National Library of Canada, 1995.
Canadian Literature Index 1985-88. Toronto: ECW Press, 1987-1992.
A Comprehensive Bibliography of English-Canadian Short Stories, 1950-1983. Toronto: ECW Press, 1988. 973p.
Articles
Conference Papers
For a list of papers given at academic conferences click here.