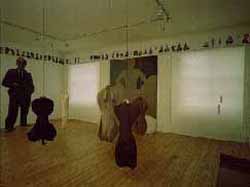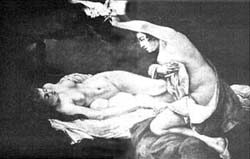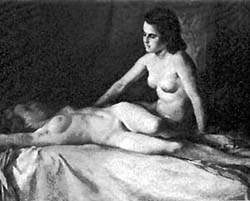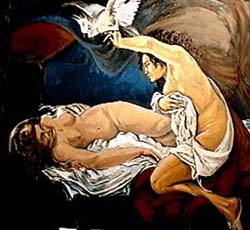 I had struggled to see myself an artist for more years than I dared admit. But even now I still had questions about why some works were so mesmerizing and why some masterpieces failed so completely to live up to their reputations. I followed some recent efforts to locate certain masterworks that disappeared during the Second World War. The very naming of certain works as masterpieces seemed to have literally lifted them out of the realm of physical objects and assigned them mythic value. Passionate searches for these works must be motivated by more than money, just as the creation and collection of art was conceived by obsession and then only later rationalized by dollars. Why do I, the artist, devote my attention to a search for patrimony disavowed by the postmodernist theories I've come to value?

A dispassionate narrative, supported by the available facts about where works were found or last seen, can construct a logical history. Could these logical accounts so fervently sought, be camouflage for some other histories, lost in the war and still missing?

In Linz, we worked in classrooms where young girls were once taught by nuns to cover their ignorance, their bodies, with a shield of words and numbers and patriotism. We were Silke, Vera, Johanna, Piotr, Sigrid, and I. Actually I was there in three bodies, Mickey, Lauren and me, the family - the father, the daughter and me, the mother. I catch a glimpse, in passing, of how I the artist submerge myself under we, the family. We are a family body, blood joining minds and bodies, born from legacies of minds and bodies lost to any memory. Deep in a culture we had only known from a distance we worked late at night. We became immersed in an imagined place with an uncertain history. Living and working together, the breath of lost bodies seeps into the work, into the conversations. We begin to breathe in different bodies. The works we create enter their present physical form, they will continue to exist in a parallel realm, a memory when our presence is past. They will live in that parallel realm already colonized with the missing bodies of families, the collections of intimate histories, completing stories that have until now been unfinished. The stories could not be placed, identified, mourned, and celebrated. There were no remains.

Linz was the childhood home of Hitler. We work in an old convent on the street where he lived with his mother, where he dreamed of being an artist. Nearby the bridge over the Donau stands stripped of the monumental male and female stone figures intended to guard his architecture of pure culture in his Linz. Here he planned to build a great museum for which he would ardently collect art that would glorify himself and his Germany. First he chose the depictions of bodies and lives that fit the images he had wished to paint himself. Goering convinced Hitler there were other bodies of work which could add substance to Germany's wealth and status as a Culture. Works were purchased, confiscated, looted, collected,... Some works destined for the Linz Museum were spirited to the Alt Aussee salt mines. Some, Goering installed in Karinhall. Some works Hitler kept close to him for his private delectation.

Collections are not banks. They are bodies of work that name, that represent lives, stories about lives, collected visions about who we are, why we belong here, or there; myths about what we have attained, spiritual and sensual heights, and depths. They are as strong and true as we are, and just as open to deception and manipulation.

The Nazis looted collections, setting their sights on the trophies of the great civilizations, applying a layer of idealized Greek mythologies over the grim German landscape, reenacting Napoleon's avid conquest of the west's greatest art treasures, stealing the histories and lives of those who stood in the way.

But what of Courbet's painting of the story of Venus and Psyche? There were three paintings of the figures of two women, a brunette and a redhead, one bending over the sleeping form of the other. One painting survives, one is believed to have been burned in an air raid on Berlin, and one is a body missing. Curiously, their revelation of rampant physicality, remains a haunting secret that was buried with the pre-Reich collectors and remains an enigma to those who might claim ownership today. A century later the image of those unruly bodies collide with the works sanctioned by the Third Reich. The painting by Wilhelm Hempfing, titled simply as "Youth", bears a striking likeness to the Venus and Psyche paintings. It intended to show "the body as nature wanted it, on perfect forms, on pure configurations of limbs, on firmness of flesh worthy of thoroughbreds..." "intent on cultivating such happiness where it promises to enhance the performance of men and women in their basic duties of combat and fertility." (Art and the Third Reich, P.78.) Although the use of the image of the nude female body was so prescribed, the denouncement of works by Beckmann, Kokoscha and others, signal awareness of imminent danger. "They express a ravening lasciviousness that sees the nude only as an undressed human being in its lowest form." (Art in the Third Reich, p.150) At the same time Hitler sanctioned an unchained morality for male bodies at war. "If a German man must be ready to die unconditionally, he must have the unconditional freedom to love. Love and battle belong together. The civilian should be glad to get what is left over." (Ibid)

Between these a view of the earth to be won lies. The emblem of that earthly body is the female nude, to be won, to be owned, and to be disciplined. And yet.....

How could the undisciplined bodies of the women engaged in their own pleasures in Courbet's lesbian love scenes lie quietly under Hitler's rigid Aryan body? The paintings variously titled "Venus and Psyche", "Psyche Pursuing Venus", and "The Awakening", were painted in 1864. These depictions of female desire, imagined by the male painter, are central to Courbet's efforts to subvert the ideal image of the body. By commission and execution they are celebrations of female sexuality, and represent a kind of pornographic possession, by a painter determined to penetrate the veil of classical mythology to present the body as his own earthly life. The pleasures of the painted flesh and the pleasures of private possession are doubled in these painted bodies. They compel me to look. Their size, sensuality and composition fill the eye and the mind. They frustrate any illusion of distance and objectivity. The palpable skin of paint, bearing traces of his hand, their human weight spills to the front of the composition surely exceeding the control sanctioned by the Nationalist Socialist Party. Their histories of commission and use, as partners for the private bodies of men must have tormented the official bodies charged with controlling the sights available to German eyes and minds. But to Hitler, alone. Were they a source of pleasure due to the worthy warrior?

Here are three stories about what could have befallen two missing paintings each titled at various times "Venus and Psyche", "Psyche Pursuing Venus", and "The Awakening", and three stories about why we are still compelled to search for the remains to complete the story.