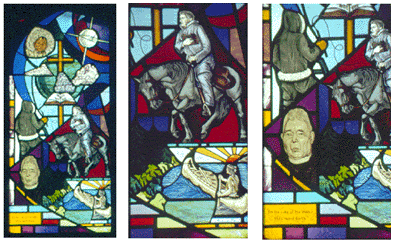 St. Chad's College, University of Saskatchewan, Saskatoon.

Stained Glass Publications
Shirley Ann Brown, updated April 2007
Monographs:
Stained Glass of St.James' Anglican Cathedral, Toronto. Toronto: Anglican Archdiocese of Toronto, 2001.
Articles:
"The 'Late Gothic' Stained Glass Windows in the Cathedral of St. John the Baptist in St. John's, Newfoundland", Journal of the Society for the Study of Architecture in Canada (June 2004) 21-30.
"Reflections of the Divine", The Catholic Register (June 2, 2002) 12-13.
"Remembrance of War: Stained Glass Windows in Ottawa's Peace Tower", Rotunda, vol.31, no.1 (Summer 1998), 12-17.
"The Influence of German Religious Stained Glass in Canada 1880-1941", RACAR, vol.21, no.1-2 (1994), 21-31 (appeared Nov.1996).
"Wilhelmina Geddes' Ottawa Window", Irish Arts Review, vol.10 (1994), 181-8.
"Massey Hall's Hidden Glass Treasures", Rotunda, vol.26, no.2 (Fall 1993), 28-33.
"A Regal Landmark in Stained Glass", Rotunda, vol.25, no.3 (Winter 1992), 30-5.
"Christ Healing the Sick Child: A Treasure in Stained Glass", Rotunda, vol.23, no.3 (Winter 1990) 11-17.
Website inquiries: sabrown@yorku.ca