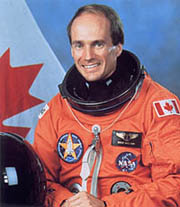 On Monday, November 11, at 9:45 a.m., York University President and Vice-Chancellor Lorna R. Marsden and Canadian Space Agency astronaut Steve MacLean will officially unveil the patches to be worn by the crew of the next Space Shuttle mission. The unveiling will take place at York University's Keele St. campus, in room 130 of the Centre for Film and Theatre.

Both Dr. MacLean's personal patch, and the patch to be worn by all members of the Space Shuttle crew, were designed by a team of students enrolled in the York/Sheridan Joint Program in Design.

This event will be broadcast live @ 10 a.m. in both RealPlayer and Windows Media Player formats. Archived versions will be available after the event.