The Long Wait – run-up to the chase
Storm chasing has been a pastime of mine pretty much ever since I could drive my Dad's Buick Skylark down Windsor-area roads on my own. However, storm chasing in southern Ontario is like fishing in the Detroit River: you never know what you'll catch, but you're pretty sure you won't be taking it home. Stormy days in southern Ontario usually involve 3H weather. That's Hot, Hazy and Humid, and it translates as: "good luck seeing any storm structure". So there are rarely any trophy photographs.
Storm chasing friends of mine in southern Ontario like Mark Robinson, George Kourounis and Ron Gravelle had been heading down to the US tornado alley for years and had been trying to get me to join them, but there was always too much to do at home or work, not enough vacation time, etc. So, I got to see their big catches each year at the Chaser BBQ and drool.
<![if !vml]>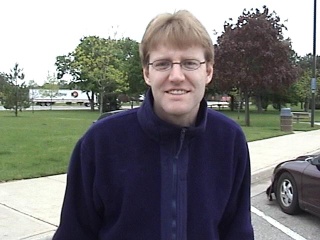 <![endif]>
Mark Robinson
When Mark asked me if I was interested in chasing with him for 2004, it occurred to me that perhaps these guys might stop asking some day. Heather was still home with the kids and I knew that wouldn't last too much longer. And I had a bit of vacation saved up from 2003. It seemed the stars were aligned. Heather agreed, hoping that maybe this would get chasing out of my system (little did she know…). So I gave Mark a tentative yes.
Soon after, Sarah Scriver, a budding storm chaser and York U meteorology student, expressed an interest in joining Mark as well. Mark, eager to split the costs of chasing as many ways as possible, agreed to bring her along, and our chase team was born. We decided to head down for the first two weeks of May.
<![if !vml]>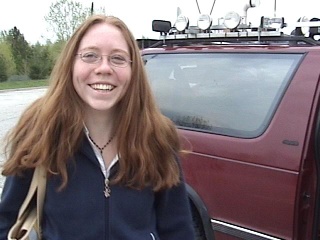 <![endif]>
Sarah Scriver
The weeks leading up to the chase trip were busy, getting everything organized, getting loads of work done before the vacation, and checking of various long range model progs. As we got closer to May 1, it became clear that the first week of May was going to be awfully quite down south. An upper ridge was building in over the Plains and it didn't look like it would be in any hurry to leave.
After several days of increasing anxiety over our prospects, I suggested that we move the trip a week forward and we quickly agreed that it was the right thing to do, though we knew we could get burned. Long range models have been known to be totally out to lunch before.
The next week was spent nervously watching the weather down south, hoping that we made the right choice. Turns out the long range models did well for us this time, and we managed to avoid a first week filled with trips to see the world's biggest ball of twine (Dave Lewison has the shirt, more on that later). Not only that, but the long range models were painting a very stormy picture for the next two weeks. Yes!
In the end, it was lucky we were able to move the trip forward a week. I don't think any of us would have been ready to leave on May 1. It was becoming clear that we were more a team of procrastinators than prognosticators.
Finally, Friday May 7 arrived and the long wait was over. Initially, we were planning on heading straight down to Norman, Oklahoma via St. Louis. But it looked like the storm track was going to be quite a bit farther north, at least for the first week or so. Mark and I decided on a target for our first chase day on May 8: central Iowa, which is a helluva lot closer than Norman, and easily reached from Windsor (where my parents still live and Mark's girlfriend Beth's parents live - a good stopover location).
<![if !vml]>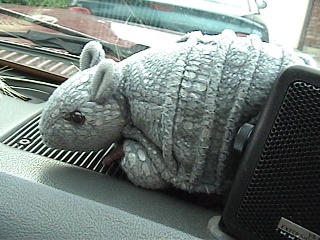 <![endif]>
Our trip mascot "Amarillo the Armadillo"
So, Mark, Beth and Sarah arrived in Guelph to pick me up around (Beth was getting a ride down to her parents). After stowing the equipment and saying my goodbyes to Heather and the kids, we were off. We arrived in Windsor around , but not before riding through a stretch of ice pellets (believe it or not) around Chatham and seeing some distant lightning to the southwest. The plan was for Mark and Sarah to pick me up at my parents' place at .
Oh, and my throat was getting a bit scratchy too…uh oh.
All text and images by Dave Sills Copyright 2004.
Unauthorized use prohibited. All rights reserved.
---