Project Partners
University of Windsor
Canada
The U of W was founded in 1857 as Assumption College. In 1963, the university became southwestern Ontario's first autonomous degree granting institution and has been a public institution for 42 years. Currently over 16,000 students attend the institution. The U of W and George Williams established the first undergraduate social work programs in Canada, a trend which grew rapidly in the late 1960's in Canadian universities to meet the growing demand for professional social workers. The Mission of the U of W's School of Social Work is to promote social justice through quality professional education, advocacy, community partnerships, and the development and dissemination of knowledge through enquiry. The School offers Canada's only combined honour's degree in Women's Studies and Social Work. As a result of constructive relationships with agencies in the community, the School provides positive learning experiences for social work field internships.
During the forty-two-year history of the University of Windsor, international-development projects on five continents have involved individuals and teams from every Faculty. A distinguishing feature of these projects is their strong record of success. In large measure, this is due to an emphasis on participatory management and evaluation and also on the use of a foundation of indigenous knowledge for introduced technologies, especially in the most recent projects. For example, the work on rural water supply in India by the Department of Earth Sciences has gained recognition from the UN Department of Economic and Social Affairs, UNESCO, UNEP and the World Bank in separate evaluation initiatives.
Projects in Africa include the work by Sociology and Anthropology on HIV/AIDS education in Kenya, by Earth Sciences on the training of geologists from the National Oil Corporation of Kenya, by Earth Sciences on gully erosion in Nigeria and by Economics on fiscal planning in governance in Zambia. The Earth Sciences work in Nigeria, recently elaborated as a case study by AUCC, has elements in common with this proposal, notably capacity building for the DCETOs, extensive use of indigenous knowledge, participatory management and evaluation by the rural poor, and the involvement of different levels of government, including the support of a traditional ruler. It is worth noting that U of W maintains an office in Lagos, Nigeria. This country presence will support the project in various ways.
For more information, please click here.
York University
Canada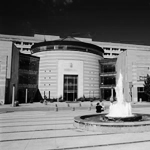 Founded in 1959, York University is now Canada's third largest university, and world-renowned for attracting students who forge their own unique paths to success. York offers full and part-time graduate and undergraduate degree programs to 55,000 students through eleven faculties. York University is renowned for its relevant and critical study of international issues. Bringing together leading practitioners and scholars across a wide spectrum of disciplines, research at York is a major contributor to the development of international policies and the advancement of new insights on regions and global issues. York University is home to leading research centres and institutes across a broad range of international areas. These centres undertake projects that inform public discussion, policy development, and practice, while engaging researchers, policy-makers, and members of non-governmental and advocacy organizations from within Canada and abroad. York's international studies researchers work with governments, business, and NGOs across the globe, and ensure the transfer of new knowledge.
The School of Social Work at York University is recognized as having one of the most progressive and socially responsive social work programs in Canada. The School offers two undergraduate (BSW) streams and a graduate (MSW) program. Students receive a professional social work education that is characterized by a commitment to human rights and social justice. Dedicated instructors, who draw from a strong contemporary curriculum and their own practical experience, afford students the opportunity to acquire their own social work philosophies and skills. York students are equipped for professional practice in a wide variety of social work arenas, from work with individuals and families to practice with community, policy, research, and international settings.
For more information, please click here.
University of British Columbia
Canada
The University of British Columbia is a world class higher education and research institute with a critical mass of international scholars and resourceful library systems. This year, the School of Social Work and Family Studies is celebrating its 75th anniversary. Its longstanding history has proven its success as a social work education institution in British Columbia as well as Canada at large. With a team of faculty whose expertise in many fields of study is widely recognized both locally and internationally, the School of Social Work and Family Studies is in particularly strong position to contribute to SWIN because of its commitment to internationalization. Faculty members are involved in international collaborations with colleagues from Ireland, Australia, Switzerland, Iran, Columbia, Vietnam and China. UBC is located in the City of Vancouver, a city with a rich array of governmental and community organizations with extensive experience and expertise in community capacity building – a key focus for this project.
For more information, please click here.