Employer Recruitment Sessions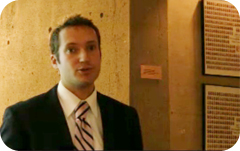 Every year employers from select industries – particularly larger employers from technology, accounting, finance and sales & marketing companies – come to campus to recruit York students and new grads. Connect with these employers who can answer your questions about their organization's culture, career opportunities, what skills and experience they're seeking and how you can apply. Recruitment Sessions take place during employers' recruitment cycles which are typically September to November and mid-January through the end of March.
Please Note: Below are profiles submitted by organizations qualifying their own activities in their own words. Claims and opinions expressed are not necessarily those of the Career Centre or York University.
Registration on the Career Centre's online system is required for all recruitment sessions (you must sign up for an account on the system before you will be able to register for any events).
Upcoming Employer Recruitment Sessions
Bell Canada Inc.
September 25, 2014 11:30pm - 1:30pm
103 McLaughlin College (Career Centre Presentation Room)
Better careers start here.
Come to our Bell information session to learn about the career opportunities Bell has to offer in Operations, Marketing, Sales, IT, Customer Care and Analytics. Meet our Bell Executives and speak to recent grads in our leadership programs.
Recruiting For: Variety of Graduate Leadership program positions including roles in Business Markets, Projects, IT and more!
Skills:
Smart, curious team players
Continuous Leaders
Self Starters
Status Quo challenges
Application Method: Apply to the positions online directly on the Career Centre's online system and at bell.ca/campustocareer.
How to Prepare: Make sure you do your research on Bell's industry, products, services and graduate leadership programs. Reach out actively to Bell recruiters prior to the session to introduce yourself! Proactively set up a profile online on our application page to set up career alerts on positions that may be of interest to you.
Registration is required. You may register for this event on the Career Centre's online system (you must sign up for an account before you will be able to register for any events on the system). Registration for this session will open on September 1, 2014.