6 November 2023
goSAFE will be providing extended hours until Tuesday, December 5th 2023. Monday to Friday from 8:00-10:30AM & from 4:00PM-2:00AM. goSAFE can be reached at 416-736-5454.
14 October 2023
La version française suit la version anglaise. The events in Israel and Gaza, and in communities around the world this past week, have had a profound impact on us all. When classes resume following reading week, we encourage everyone to be mindful of the difficulties that students, faculty, instructors, and...
The Community Safety Department works closely with other departments and community partners to provide services that ensure the safety of York's campuses.
We take a holistic and intersectional approach to safety that reflects the diverse experiences of members of our community. We are committed to working proactively with the York community to build safe and inclusive campuses. Each of us can – and should – play a role as underscored by our message of "Safer Together."
Building a safe community is an ongoing endeavour. We continually strive to update our services and infrastructure to better respond to emerging safety and security concerns. We welcome your feedback at safety@yorku.ca.
---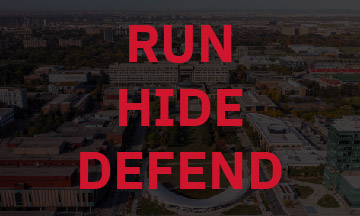 The Community Safety Department has developed this video as part of our commitment to safety, to educate and prepare our community for a potential active attacker situation. The department offers several safety resources and support, and this video is part of our community education and training program.
While firearms and weapon attacks are very rare occurrences in Canada, sadly they can happen. This video provides you with important information to help you to deal with an active attacker situation in three different ways.
---
Land Acknowledgement
We acknowledge our presence on the traditional territory of many Indigenous Nations. The area known as Tkaronto has been care taken by the Anishinabek Nation, the Haudenosaunee Confederacy, the Huron-Wendat, and the Métis. It is now home to many Indigenous Peoples. We acknowledge the current treaty holders, the Mississaugas of the Credit First Nation. This territory is subject of the Dish With One Spoon Wampum Belt Covenant, an agreement to peaceably share and care for the Great Lakes region.