The Door Access Technology section of the Community Safety Department is responsible for access control technology at York University.
If you have any questions about access control on campus please see the FAQ below. If you cannot find what you are looking for, you can contact us at doorcard@yorku.ca.

Frequently Asked Questions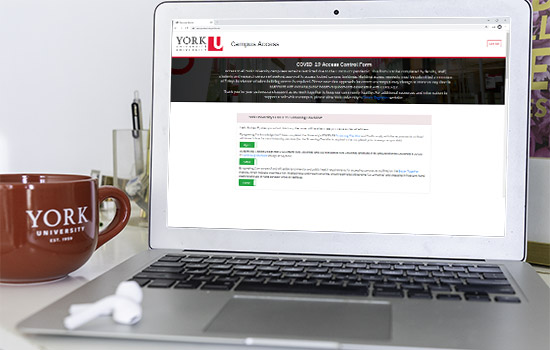 How to Request Access to Campus
Access to all York University campuses remains restricted due to the COVID-19 pandemic. This form is to be completed by faculty, staff, students and research personnel seeking approval to access locked campus buildings. Building access requests must be submitted a minimum of 7 days in advance of when building access is required. Please note that approvals for access to campus may change or cease at any time in alignment with evolving public health requirements associated with COVID-19.
Thank you for your patience and support as we work together to keep our community healthy. For additional resources and information to support a safe visit to campus, please view York University's Better Together website.
| Steps | | Details |
| --- | --- | --- |
| 1 | Access the Campus Access Control Form | Use your Passport York Login (Make sure you are using the correct York login -Student/Staff & Faculty). |
| 2 | Complete the York University - COVID-19 Screening Checklist. | If you have answered YES to any one of the questions, you are not to attend any York campus/location. Refer to 'What you need to know' for the next steps. |
| 3 | Familiarize yourself with University and public health requirements. | You can also follow Canada's Chief Public Health Officer, Dr. Theresa Tam, on Twitter at: @CPHO_Canada. |
| 4 | Fill out the Campus Access Control Form | Provide as much detail as possible and make sure your information is correct, including your card number and employee/student number. Incorrect information may slow down the approval process. |
| 5 | Submit Request | Once the form is completed and the Submit Request Button is clicked, the form is automatically sent to your approver (Executive Officer, Dean or Associate Dean). |
| 6 | Review by your faculty or department | You will receive an email that your request has been submitted and is being reviewed by your faculty or department - this does not mean that you have been approved. |
| 7 | Faculty or Department approval | Once the request is approved, an email will be automatically sent to the Door Access Technology for processing. |
| 8 | Approval | You will receive an email with confirmation of approval. This is your confirmation that your access request has been approved, if you haven't received this email your email is still being reviewed- Do not come to campus until you receive your confirmation email. |
| 9 | Haven't received an email? | If you haven't received your approval email please contact your faculty or department for an update on where your request is in the approval process. Door Access Technology will contact you directly if they have denied your request. |
| 10 | Request Denied | If your request has been denied (due to density or other reasons) you will receive an email stating such. |
Troubleshooting:
Use Chrome or Firefox browsers for best results - do not use Internet Explorer.
Doublecheck YU Card, HID Card, and Employee/Student numbers as incorrect numbers will lead to delays in approval.
Make sure you select the correct department/faculty, this directs where your request will go after you submit it.
If you are still experiencing issues with Campus Access form please contact doorcard@yorku.ca