Volunteer Fair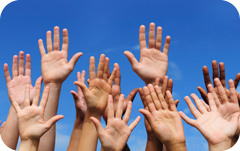 Volunteer Fair 2014
Wednesday, November 12, 2014
10am – 3pm
Vari Hall
GET INVOLVED. GET EXPERIENCE. MAKE A DIFFERENCE.
Interested in building career related skills and gaining experience? Want to meet people who share your interest in making a difference? The Volunteer Fair will feature organizations with a variety of volunteer opportunities.
Thank you to the organizations that participated in Volunteer Fair 2013:
Recruitment Policies and Disclaimer
Looking for a volunteer position?
Volunteer positions are posted year round on the
Career Centre's online job posting system
.
Volunteer Fair Video


Volunteer Fair Fall 2012


Volunteer Fair Winter 2011