Film & Theatre: Feature Films
Aspects of African Canadian Film & Theatre
Film & Theatre | Feature Films | Independent | Documentary | Filmmakers | Playwrights | Theatre Companies
Feature Films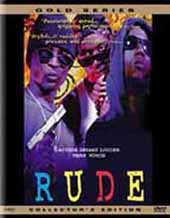 Rude (Clement Virgo - 1995)
Rude is director Clement Virgo's first feature film. Rude follows the trials and tribulations of three characters on an Easter weeknd as they deal with their weaknesses and attempt to come to terms with themselves. Rude, a fourth character, represents the consciousness of the Black community. The film is a departure from the stereotypical "'Hood" films popular in the U.S. Rude shows Black characters dealing with more than just drugs, guns and death.
Virgo came to Canada from Jamaica at the age of 11. He worked in the fashion industry as a window display artist; later he was a resident at the Canadian Film Centre. An earlier work, Save My Lost Nigga' Soul, won prizes for Best Short Film at both the Toronto and Chicago Film Festivals (1993). This film also won the Paul Robeson Award for Best Short Film of the African Diaspora at the Pan African Film and Video Festival (1995) and received a Genie nomination for Best Canadian Short Film (1994). Virgo has been active in the Toronto film community as a board member of both the Liaison of Independent Film and Television and the Black Film and Video Network.
Poor Boy's Game (Clement Virgo - 2007)
At the heart of Virgo's 2007 film, Poor Boy's Game, is Dannie Rose (Rossif Sutherland) - a White tough who has recently been released from jail into a Halifax smoldering with racial tension. Rose was sent to jail for the savage beating of a Black teenager who is left severely disabled. A local Black boxer (Flex Alexander) challenges Rose to a boxing match which sets off a number of tragic events, and places Rose in an uneasy relationship with the disabled boy's father, a gentle former trainer (Danny Glover).
Soul Survivor (Stephen Williams - 1995)
Soul Survivor was written and directed by Stephen Williams. Soul Survivor is Stephen Williams' first feature film. His other works include an episode of Madison and four episodes of Liberty Street, both Canadian television shows. He has also produced a short film, A Variation on the Key 2 Life, which was a Gold Plaque Award Winner at the Chicago International Film Festival in 1994. Williams has also done commercial spots for Canada's 24hr music station, "Much Music." Soul Survivor had its world premiere as the opening film of International Critics' Week at the Cannes Film Festival in 1995. This film was also featured at the Sundance Film Festival 1995 as part of the Canadian Spotlight Series and opened the 1995 Toronto Film Festival.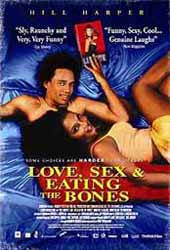 Love, Sex and Eating the Bones (David "Sudz" Sutherland - 2003)
Advertising executive Jasmine (Marlyne Afflack) decides to abandon her celibate lifestyle when she encounters Michael (Hill Harper), a photographer who spends his nights working as a security officer. Michael's obsession with pornography leads him to try to fashion a "porn-inspired" sex life with Jasmine. She attempts to humor him at first, but soon begins to tire of his fixation with celluloid sexuality. Sutherland's film explores the relationship between love and lust in this humourous and heartfelt film which premiered at the 2003 Toronto International Film Festival.
Sudz Sutherland is based in Toronto and works as a writer and director in film and television. His short film My Father's Hands (1999) won the HBO Short Film Award at the 2000 Acapulco Black Film Festival. His other films include the shorts i'm a big girl (1998) and Win/Loss/Tie (1998) and the documentary Speakers for the Dead (co-director, 2001). Love, Sex and Eating the Bones (2003) is his first feature film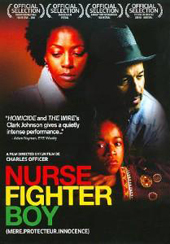 Nurse.Fighter.Boy (Charles Officer - 2008)
Nurse.Fighter.Boy is an urban love story about the soul of a mother, the heart of a fighter, and the faith of a child. Jude is a single mother who descends from a long line of Jamaican caregivers. Silence is a 'past his prime' boxer who fights illegally to survive. Ciel is a boy who delves into music, conjuring dreams for his mother. During the last week of summer, a late-night brawl finds the fighter in the nurse's care causing their three fates to be forever entwined.
Nurse.Fighter.Boy premiered at TIFF 2008 and won the audience award for Best in World Cinema and a jury prize for Best Cinematography at the Sarasota Film Festival. It was also released theatrically in Canada on February 2009.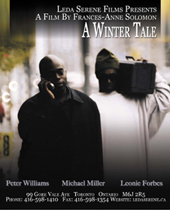 A Winter Tale (Frances-Anne Solomon - 2007)
Shots ring out one winter night and a bullet meant for a local street dealer kills a ten-year-old boy. In the downtown Toronto community of Parkdale, grief and suspicion hang heavily in the air, while the nightly patrons at Miss G's Caribbean TakeAway resume their ritual of beer and banter. But one of them, Gene Wright, cannot go on. He begs his friends for help. In a most unusual development, six Black men make a pact to form a support group in hopes of salvaging their broken spirits and redeeming their besieged community.
A Winter Tale is set against the backdrop of a multicultural community's unrealized hopes and dreams. Bitter and tragic, funny and hopeful, the film tells a uniquely Canadian story that features Toronto as a central character.