Music: Calypso
Aspects of African Canadian Music
Music | History | Calypso | Classic | Female | Folk | Jazz | Rap | Reggae | Soul | Steelpan | World
NEW! Y2Kalysonians: The New Breed
It has been said that change has rarely been greeted without its share of resistance. This holds particularly true with the genre of music called calypso, the indiginous music of the Caribbean island republic of Trinidad and Tobago. Sure, this vein of music has spawned its pedigree of offshoots - most notably, soca, and to different extents of success, pan-jazz, rapso, ragga-soca and chutney - but by and large, the maxim of the kaiso community at large has been "if it eh broke, doh fix it" for the better part of soca's emergence 30 years ago - meaning, doh stop de winin', fete-in', jumpin'-up, pah-tee-in', and bachannal and mas'. Thus, new, different sounds have often been met with dismissal and scorn, and artists and fans alike tended to go for familiar sounds to be 'safe'.
Fast forward to the year 2003 A.D. Lord Kitchener, Roaring Lion, Merchant and other calypso greats have long since passed on. The once-young-upstart King David Michael Rudder is now an elder statesman, bonafide relics like The Mighty Shadow are revered like the Lost Arc, and Sparrow is deservedly content to be a nostalgia circuit figure. All this is a clear indication of the staying power of this vibrant, influential music, which is now being produced by every other Caribbean island outside of T&T and is an influence to some North American musical norms, including hip hop (it is in fact arguable that calypso is the father/grandfather of both hip hop and reggae music). But the question begs to be answered: who will succeed the throne once the old calypso vanguard has left the building? Who will carry on and build upon the legacy?
Toronto has long been regarded as an outpost for calypso culture outside of the Caribbean. Many significant artists in these parts, including the first-ever Canadian Calypso Monarch Smokey, long-standing Kings such as Jayson and King Cosmos and the reigning World Calypso Queen Macomeh Fifi, enjoy well-deserved status as international ambassadors to the art form. But, there is a new breed rising up from de soil. Young, adventurous, and raised with knowledge of the basic calypso elements yet able to add their own particular spin on the format, this is the new generation, a generation with a thousand and one points of musical reference, and at some point they all spill into the art they create. In Toronto, known by its young citizens as "da T-Dot", this is represented best by a loosely-connected, but unified, conglomerate known as the WildLife Contingent. Some of the young names that calypso music observers and fans should keep on high alert as the ones to look out for now and in the near future include:
I.U.: A duo consisting of Qaeta and de Mighty Pantha, I.U. represents the 'young guns'
facet of the new era - two young soldiers armed with conscious, lyrical truths for the diasporadic African popuation to "rise". Much in the same sense that Marcus Garvey, Kwame Ture and Martin Luthor King, Jr. had intended, Qaeta and Pantha deliver a knock-out punch to party-only lyrics with a fiercely political yet rhythmic style. Pantha for one summarizes I.U.'s style as such: "We come with lyrics to feed the concious mind. We make music to let our Afrikan bredren and sistren know that we are all children of the most High. But, being soca artists as well, we also know how to have a good time and act 'wasi'." All we have to say is, Godspeed to the wikked … I.U. is here. You've been warned.
Connector: The seasoned pro of the young, who has conquered both the Caribbean and his adopted hometown of T.O. with his witty, charismatic and engaging "winer" style which guarantees a strong female quotient at every one of his performances. A veteran who knows how to move the crowd, Connector's success can be traced in Toronto to inclusions official Caribana CDs. Not too many artists can claim kingship in both North America and in Trinidad, with his Fresh Water Yankees calypso tent, and do it in such style. Connector has a wide-spread following, instigating "wining fever" among a cross-section of women and men dancing with their women. Talk about star potential. There is a reason why a man who can connect with the masses has been adorned with such a name. Look for him.
DragonFly: Every family has a black sheep … and 'Fly, a.k.a. Black Dragon, is definitely a rare breed if there ever was one. The thing to expect about DragonFly - besides his energetic, imaginative, and innovative concepts - is to not expect any one damn thing. Possibly one of the most diverse calypso artists ever, he sings calypso, is a battle-ready rapper, can sing smoothed-out romantic ballads, rock, jazz - you name it. And somehow, he does it all seamlessly. He is redefining what a calypso album should - and eventually will - sound like, with his new album, "Farewell to the Flesh" (which the word "Carnival" means in Latin), due by the summer. He says that he wants to be The One to take calypso further past the impasse of Caribbean-audience acceptance and into international dominance. Author of the new "rockso" style of calypso, he states: "I want to be the first singer since Lord Shorty and Shadow to actually invent a different style of calypso. That's why I call my style 'rockso' - it's hardcore, but I try to incorporate a bunch of different styles that all people will like." He promises that his album will include both the most "hyper soca/rockso tracks ever unleashed in the Western World" and also "the most romantic-sounding calypso songs." Stay tuned …
Da Original One: "Swing that J'Ouvert Booty … swing it!" That's what Original's chorus commands his audience to do - and does it convincingly. A spoken word artist as well as a bonifide calypsonian, his songs express the Carnival experience in a way that is uniquely jovial and catchy. A longtime participant of La Parole - a weekly night of poetry and music, held downtown on Yonge Street at Flava restaurant - Original One's appeal is as broad as it is infectious. A producer, singer, songwriter, poet and general "sagaboy", his inclusion in the WildLife Contingent adds a potent punch of "rel Trini-ness" to the squad.
Izatri: River Come Dong and Wayne Culture - known together as Izatri - is another duo with a vibrant rapso (rap-calypso) style that they can claim as their own. Their track, called "Chinee Trini," very humoursly explains the shock that many Caribbean people have when they realize that, yes, there are Asian people who are just as Caribbean-bred as their countrypeople. Look for them to mash up the rockso circuit.
Shayne Bailey: Two years ago, Miss Bailey had all women singing "Leggo Meh Man" to a massive soca beat. Now, with her new tunes including "Just Ah Wine," she is encouraging men that when she graces them with a sweet wine at a soca party, it's "just ah wine yuh getting'," nothing more that that. Shayne connects with the female audience in a woman-positive way, and has the men enjoying her seductive moves and Caribbean attitude.
Taste of Madness: This band helped launch the careers of artists such as DragonFly, Shayne Bailey, Lenny, Curtis and others. Led by Emannuel "Blocker" Thomas, they have performed most notably at downtown Toronto's Harbourfront stage, and various clubs around the city. T.O.M.s second album, "Get Ready," was a bonifide smash throughout the Caribbean and North America, featuring such songs as "Leggo Meh Man," "Shakin' It," and "Road Rage." This summer promises to be even hotter, as the band prepares to launch more mayhem on the soca contingent.
Giggla: He brings Jamaica into the mix with his hip-hop-based style and J.A. patois. With songs like "Move Yuh B*mbaclot" and "Useless Gyal," he represents "yard" with hardcore lyrics and a rugged style. Kingston to Port-of-Spain to T.O. - it's all good.
The WildLife Contingent's debut compilation album, "No Escape - Volume One," can be obtained at Play de Record on Yonge Street, and other locations yet to be confirmed. For more information, contact L. Pierre at (416) 361-0377.
Calypso/Soca
The following are a list of some artists within this musical category:
Kelly Brown (musician, arranger)
Kelly has played, recorded and arranged calypso music with the likes of "Sound Revolution" and "Lord Kitchener". He is currently a founding member of the band "Instant Jamm" and he is a much sought after musician on the Toronto calypso music scene. Recently he has expanded his repertoire to encompass military band and salsa musical genres. He has played with the Royal Regiment, and did a fanfare for visiting dignitaries General Colin Powell and Prince Charles.
Elsworth James (calypsonian, writer, arranger, promoter)
Three-time Juno nominee Elsworth James has been a presence on the Toronto calypso scene for many years. In 1983, James became a fulltime soca/calypso artist. He has released many hits that range from party songs to social commentaries and has been instrumental in producing and promoting the presence and vitality of calypso music in Toronto.
Discography includes:"Pepperseed", Dadaraga", "I like Calypso Music", "Tribute to Ben Johnson", "Crabs In a Barrel"
Steady Vibes (soca band)
This eight member band formed in Toronto seven years ago and have been spicing up Toronto with their blend of Soca, Zouk, Calypso and Reggae. They have backed such international soca acts as The Mighty Sparrow, Blue Boy, Duke, Iwer George and Denyse Plummer. The members hail from Dominica, St. Kitts and Grenada and they bring their different influences of soca from their homelands and combine them into sweet melodies. They have won "Best Road Band" award twice in the annual Caribana competition and have toured Europe and North America on their own and with the Dominican Swinging Stars.
Dennis Renwick (musician, songwriter)
While he currently plays guitar and composes and arranges with La Petite Musicale, Dennis Renwick has been making music in Toronto for over 20 years. In the later 1960's, Dennis performed with a University of Toronto campus band called W'Africa who played highlife - a genre of music from Ghana, West Africa. After graduating from the University of Toronto with a degree in chemistry, he played with such local bands as Jerry Jerome and the Cardells, Trinstars, and has performed as a calypsonian under the name "Leo". Songwriting credits include:"The Emperor has No Clothes" - (a calypso social commentary on imperialism) and "Christmas All Year" (on La Petite Musicale's current CD)
Victorio (calypso and soca recording artist, songwriter)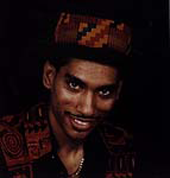 Born in Belmont, Trinidad and now living in Toronto, Victorio has been making music since childhood when he began singing in his local church choir. In 1994, Victorio launched his career as a calypsonian in Toronto and has never looked back. His accomplishments include: placing second in the 1994 Toronto Calypso Monarch finals where he won in the following categories - Best Lyrics, Best Melody, Most Original Calypso. He has also been a finalist in the 1994 International Soca Monarch of the World competition and both the1994 and 1995 prestigious Young Kings Calypso competitions.
Discography: "Rainbow People", "Doh Stop De Party", "Hey Diddle Diddle", "Doctor", "Reckless Drivers", "All Ah We Is One"