Arts/Ideas/events/news Calendar
---
For Openers: The Art of Film Titles at York Quay Centre (Harbourfront), sponsored by the Powerplant Gallery.


October 11-15, Metro Toronto Convention Centre
---

November 1-11, 2001

Since 1990, artists and thinkers from around the world have come to Chicago every November for a Festival commemorating the power of ideas in human culture. Each Festival brings together novelists, scholars, musicians, artists, poets, policy makers, and others to offer presentations around a theme of universal interest - this year, the Festival will explore, from November 1 - 11, Words & Pictures. In addition, the Chicago Humanities Festival presents a variety of public and educational programs during the year.

This years festival probes the power of words and pictures and the relationship-often symbiotic, sometimes strained-between them. What can one do that the other can't? Is our media-saturated culture making us more visual, or simply less literate? Can words and pictures be harmful? How is technology changing the way we use them?

Caitlin is speaking at the festival November 11th in a session entitled "Electronic Literature: Pushing the Boundaries"
---
List of Banned Songs
Complete list of "lyrically inappropriate" songs being banned from several U.S. radio stations in the wake of the attacks on NYC amd Washington (what do you make of this?).
---
---
Theatre Passe-Muraille BODY Geometry

PREVIEWS DECEMBER 5 runs december 6 to 16, 2001
"An angel is not a person or a thing. It is an even that comes to us in the guise of unexpected help"
This is the third instalment in a series of showcases for newly commissioned multidisciplinary performances. United by a common theme, some of the city's most exciting artists develop their pieces independently and then gather to create a daring work of cutting-edge vitality. Incorporating the disciplines of music, film, dance, theatre and circus arts, this is theatrical experimentation without boundaries.
more information here.
Theatre Passe-Muraille box office etc. here.

A student in our class works for the design company that produced theatre Passe-Muraille's season brochure!
---
ART 21: "Art21 rewrites the possibilities for art on television. Its true subject is inspiration, and its method scraps all the formulas by getting rid of narrators and allowing artists to tell us in their own words how they work and why they do what they do."
New York Times review 09/09/01 here (one-time registration required for access)

**NB: because of the recent event in the United States, the premier of this programme has been postponed. Watch this page -- or the art21 website (very good) - for new information as it becomes available.**
FALL 2001 EXHIBITIONS at the Power Plant
231 Queens Quay West, Toronto, Ontario, Canada M5J 2G8 Tel. 416 973 4949
September 22 - November 18, 2001
Aernout Mik
Zhang Huan
---
Art Gallery of Ontario, 317 Dundas St W, Toronto
Tel: 416.979.6648.
www.ago.net
---
Museum of Contemporary Canadian Art (MOCCA), 5040 Yonge St (entrance on North York Blvd)
COME PART MENTAL: an exhibition by Floria Sigismondi September 14 to October 28, 2001 Gathering Shades: Catherine Heard/ Ed Pien November 16, 2001 to January 13, 2002
Deleon White Gallery (DWG),New location: 1096 Queen St W, Toronto, M6J 1H9, Tel: 416.597.9466
www.eco-art.com/deleon
KLEINBURG
McMichael Canadian Art Collection,10365 Islington Ave N, Kleinburg, Ontario, L0J 1K0, Tel: 905. 893.1121, June 30-Sept. 9, 2001, Carr, O'Keeffe, Kahlo: Places of Their Own Web: www.mcmichael.com
---
Harbourfront centre for Visual Arts
for links to:
The Power Plant
The Photo Passage
York Quay Gallery
Case Studies
Artists' Gardens
Toronto Music Garden
---
event archive:
*** highly recommended! ***


Contemporary art Forum, Kitchener
(Christine Shaw, part of the teaching team, is a participant)
September 15-23, Kitchener City Hall
link to exhibition webpage here.
Take a look at the schedule for interdisciplinary roundtable discussions here.
All events are free and open to the public.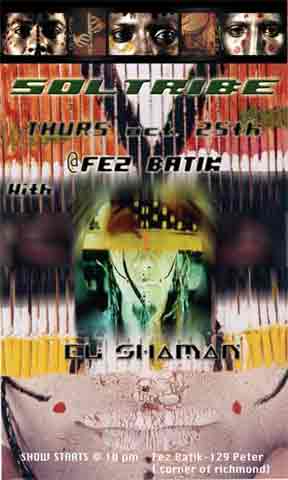 recommended this week
Soltribe: Thursday october 25th at Fez Batik 10 p.m.
Brian Rondon, a student in this class, was part of the event.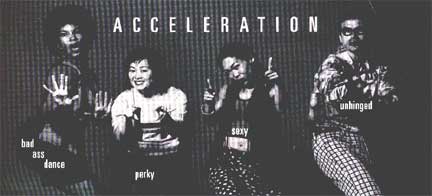 Kate Alton & Overall dance - Sept 26-oct.7 More information, here.
Highly recommended by a member of the class.