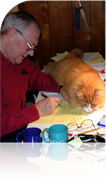 Publications
Publication Search: to search for a particular publication, select "Publication Search" from the "Quick Links" sidebar.
Publication Topics: to focus on a particular publication topic, select a topic from the "Publication Topics" sidebar.
Basic Research on Human Eye Movements
211. Collewjjn H, Steinman RM, Erkelens CJ and Regan D (1991). Binocular Fusion, Stereopsis and Stereoacuity with a Moving Head. Binocular Vision. London, Macmillan, D Regan (Ed.), 121-136.
166. Collewijn H, Erkelens CJ and Regan D (1986). Absolute and Relative Disparity: a Re-Evaluation of their Significance in Perception and Oculomotor Control. Adaptive Processes in Visual and Oculomotor Systems, E Keller and Ds Zee (Eds),,
165. Erkelens CJ and Regan D (1986). Human Ocular Vergence Movements Induced by Changing Size and Disparity. J Physiol, 379, 145-69.
157. Regan D, Collewijn H and Erkelens CJ (1986). Necessary Conditions for the Perception of Motion in Depth. Invest Ophthalmol Vis Sci, 27, 584-97.
156. Regan D, Erkelens CJ and Collewijn H (1986). Visual Field Defects for Vergence Eye Movements and for Stereomotion Perception. Invest Ophthalmol Vis Sci, 27, 806-19.