Articulation: The Pharynx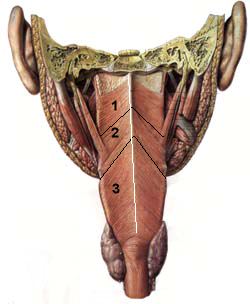 [Unclickable image]

There are three parts to the pharynx, which makes up the cavity that many simply call the throat. The image above shows the back of the head, if the back portion of the neck, including the spine, were removed, revealing the pharynx. This muscular tube connects the nose and mouth to the larynx and the oesophagus. It is divided into three groups of muscles (numbers refer to the image above), the
1. Superior,

2. Middle and

3. Inferior Constrictors.
In the back, the muscles join a mid-line or raphe (shown in the image above as an exagerated white line) , in the front they join the following structures:
in the Superior Constrictors

the skull, the mandible, the sides of the tongue,
in the Middle Constrictors
in the Inferior Constrictors

the thyroid cartilage and the cricoid cartilage.
Most people have little control over their pharynges (the plural of pharynx, pronounced fa-RIN-jeez) and learning to feel its action is a long slow process. Start by exploring contraction of the pharynx muscles as part of the swallowing process, and explore what happens when you lift your soft palate extremely - sometimes the pharynx muscles will engage as well as you play with this related muscles.
Tongue

intrinsic muscles
extrinsic muscles

Pharyngeal Constrictors (on this page)
Back to Articulation
Back to The Journey of the Voice
More on Articulation
Master Muscle List
Loyola University has a great online learning area on anatomy. This link puts you in the Master Muscle List by Region, where you should select "head and neck". This will give you a huge long list of all the muscles in the head and neck which you can use to learn more about these structures. posted June 5, 98.