Universities have a responsibility to the communities in which they are situated, not just to the students who pass through their gates. York achieves this partly by producing civically engaged graduates, who volunteer millions of hours and create new charities and non-profits, and partly by engaging in research and other service activities that are broadly in the public interest and designed to foster resilience in local communities.
Many of York's programs are designed with an explicit focus on preparing students to advance the public good, through a growing emphasis on experiential learning and with equity and social responsibility in mind.
Every day, in multiple ways, York is engaging with communities to develop increased resiliency and to work on problems faced by society, from challenges in health care to sustainability to the protection of the environment.
York alumni are
13.5%
more likely to have volunteered in the past 12 months than other university graduates in the GTA
Civically Engaged Graduates
Careers serving society
Almost two-thirds of York alumni agree or strongly agree that their career serves society by advancing equality of opportunity, promoting social and cultural inclusion, and improving health, well-being and safety.
More than a third (34.6%) of alumni (and 39.2% of first-generation alumni) agree with the statement that "because [they] attended York University, serving others has been a more important motivating factor in [their] career than it would have been otherwise." Certain programs at York are especially dedicated to training students for service.
York trains more teachers than any other university in Ontario, graduating 27% of the province's new teachers. It is especially dedicated to training teachers for the province's increasingly diverse classrooms.
York trains the second highest number of nurses in Ontario and graduates 12% of the province's new nurses, in part through collaboration with Georgian College and Seneca College.
Glendon campus is an important gateway into the public service. As the GTA's main provider of bilingual education, it is a reliable and consistent source of talent for federal and provincial governments, which require many public servants to have proficiency in both official languages. In particular, Glendon's International Studies program has produced a steady stream of graduates qualified to fill positions in Canada's Foreign Service and the Department of International Trade, as well as at international agencies such as the United Nations and the World Bank.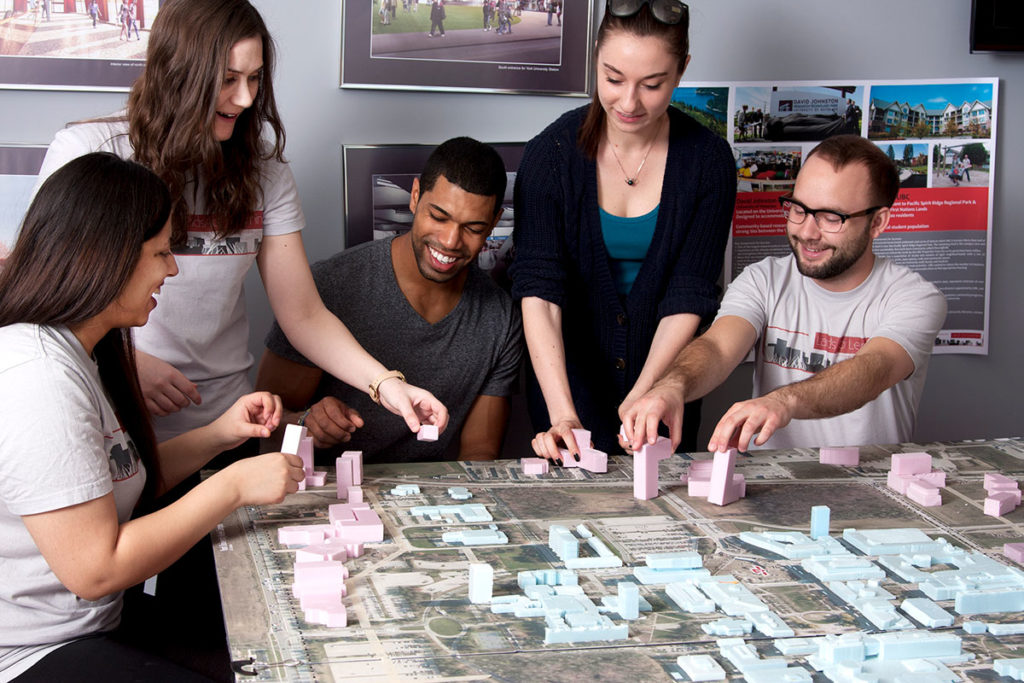 ---
27% of respondents indicate they are
"a more civically active person because they attended York University."
29% indicate they are "a more politically
engaged person."
Community volunteering
More than half (56%) of York alumni report that they have "pursued volunteer activities on behalf of a group or an organization such as a school, religious organization, sports or community association" in the past 12 months. Comparing this volunteering rate to Statistics Canada, York alumni are 13.5% more likely to have volunteered in the past 12 months than other university graduates in the GTA.
As well, York alumni are significantly more likely than other university graduates in the GTA to have volunteered for sports or recreational organizations; cultural, educational or hobby organizations; school groups and political parties or groups, among others.
York alumni who donated, while in smaller proportion than other grads in the GTA, gave three times the city's average amount.
Figure 1 Alumni agreement regarding ways their careers serve society
Figure 2 Share of York alumni who report being members or participants in civic organizations
compared to the Census Metropolitan Area (CMA) population
Engaged citizens
Of alumni survey respondents, 12.6% report having "started a charity or non-profit organization at any point in [their] life, either alone or working with others." Most (62%) of the charities started are currently active.
Three percent of York alumni indicate they have "ever run for election to a school board, for a nomination within a political party or to government at the municipal, provincial or federal level," which translates to 7,389 individual candidates when projected across all York alumni.
In addition, participation in political parties, and immigrant and ethnic organizations are more than three and two times as high, respectively, among York alumni as among Toronto CMA university graduates, which reflects the diversity and civic-mindedness of York graduates.
Intercultural connections
One mechanism by which students build their intercultural communication skills and develop more positive attitudes regarding diversity is through conversations with people of a race or ethnicity other than their own.
York alumni feel they have stronger intercultural communication skills or more positive attitudes regarding diversity.
Almost half (44%) agree they are better able to communicate with people from different cultures because they attended York University.
Exactly half (50%) agree they are more appreciative of diversity because of their studies at York University.
A sizable share of alumni agree they feel a greater sense of belonging in Canada (27%) and in their communities (20.5%) because they attended York University.
A majority (78%) of alumni indicate they often or very often have "had discussions with people of a race or ethnicity other than [their] own" while at York University. Among those who had such discussions, 59% agree they are "better able to communicate with people from different cultures because of
[these] discussions."
Figure 3 Alumni agreement as to whether they improved their intercultural communication skills
or understanding because of their studies at York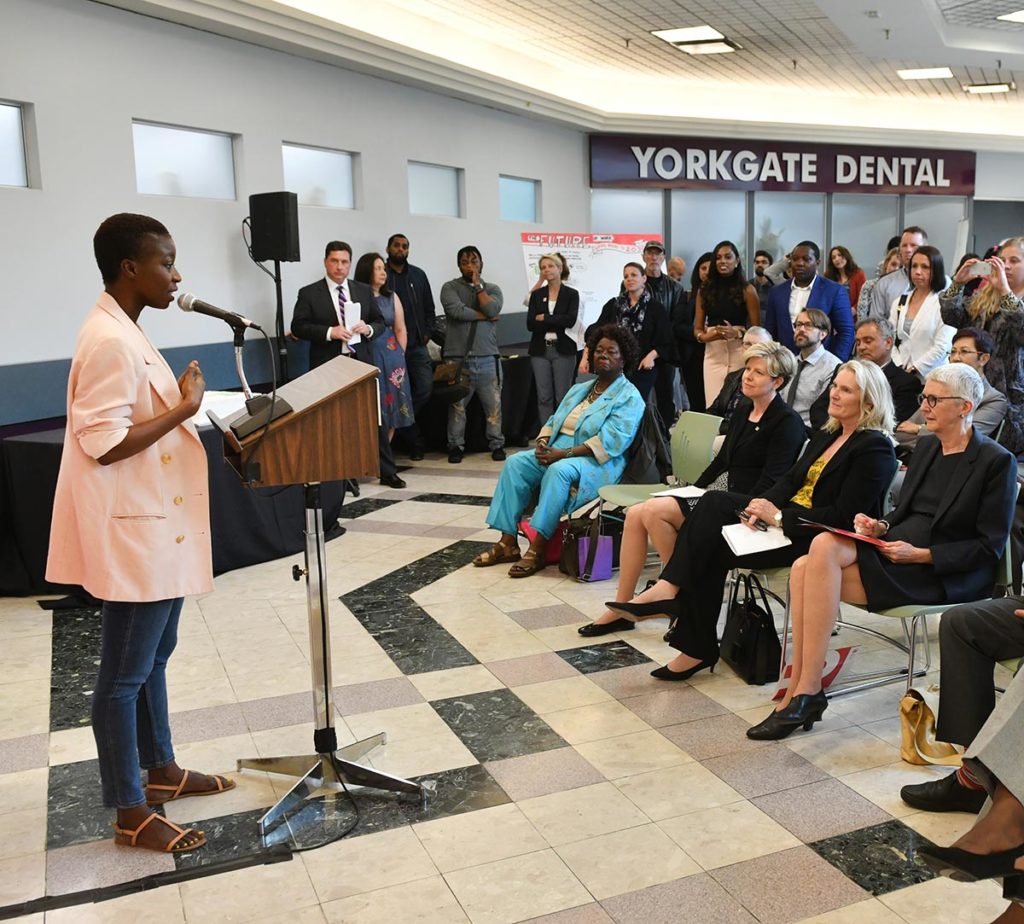 Community at the Core
York University has taken a strategic, hyperlocal approach to community engagement by investing time and resources in the Jane and Finch community. We partnered with TD to create the Community Engagement Centre (CEC), which seeks to establish equitable and mutually beneficial collaborative research and partnerships in the neighbourhood. The CEC's core activities include:
Fostering innovation in teaching and learning through community experiential learning opportunities;
Promoting post-secondary attainment among residents of the community;
Enhancing the capacity of York faculty, students and community partners to collaborate on community-based research; and
Providing a co-ordinating institutional structure to respond to community requests and opportunities for collaborations.
Table 4 Share of respondents to the alumni survey who "strongly agree" they have attributes "because [they] attended York University," by access status
| | Non-access | Post-secondary access | University access |
| --- | --- | --- | --- |
| I am a more civically active person | 7.0% | 13.7%* | 11.2%* |
| I am a more politically engaged person | 8.2% | 15.0%* | 11.8% |
| I feel a greater sense of belonging in my community | 3.0% | 11.6%* | 6.0%* |
| I feel a greater sense of belonging in Canada** | 5.6% | 13.5%* | 8.9%* |
| I am better able to communicate with people from different cultures | 12.2% | 20.0%* | 12.2% |
| I am more supportive of immigration | 7.6% | 13.4%* | 8.9% |
| I am more appreciative of cultural diversity | 13.6% | 24.2%* | 12.6% |
| I participate more in cultural creation | 5.3% | 13.5%* | 7.5%*** |
| Serving others has been a more important motivating factor in my career than it would have otherwise been | 11.2% | 24.0%* | 10.1% |
| I have had more meaningful and motivating work over the course of my career than I otherwise would have | 22.0% | 31.9%* | 18.3% |
| I am better able to communicate with people from different cultures because of my discussions with a people of a race or ethnicity other than my own while at York University | 19.6% | 32.2%* | 20.6% |