Advancing the public good is a focal point of York University research. To help support this direction, in 2018-19, York University received $45.87 million in partnership research funding through more than 800 agreements.
A large portion of this funding ($26.75 million) was provided by the Government of Canada and its agencies, while not-for-profit organizations, such as health-related groups or other universities, contributed $8.95 million in funding.
These funds supported a wide range of projects, many with an emphasis on the most disadvantaged in Canada and around the world.
York University received
$45.87
million in partnership research funding through more than 800 agreements
Centre for Refugee Studies
For 32 years, York University has hosted the Centre for Refugee Studies, an interdisciplinary research institute focused on advancing the well-being of refugees and other displaced people through research, education and policy engagement. 
The Refugee Integration and Long-Term Health Outcomes in Canada project, with $1.35 million in support from the Canadian Institutes of Health Research (CIHR), is assessing refugees' integration levels from 2016 to 2021 by tracking their social connections, employment, housing, social services usage and sense of belonging.
The Borderless Higher Education for Refugees project aims to train teachers who are working in refugee camps with little or no formal qualifications. The project is indirectly impacting the learning opportunities of more than 18,000 students in elementary and secondary education.
A Vision for the Future
Ranking third in the world in the area of biological and computational vision, York's Centre for Vision Research is dedicated to tackling problems related to human vision, including strokes, migraines, brain disorders, autism and visual deficits in Canada's aging population. The Centre's Vision: Science to Applications (VISTA) initiative co-operates with more than 50 academic and non-academic global partners, with the goal of exploring how technology can be used to permit or enhance vision. One crucial element of VISTA is to provide $50,000 in seed grants that allow projects to pursue their initial development before securing further resources externally. The centre's faculty includes seven Canada Research Chairs at York and seven York Research Chairs. 
Focus on Youth Homelessness
The Canadian Observatory on Homelessness, based at York University, received $17.9 million in 2019 for Making the Shift Inc. – A Youth Homelessness Social Innovation Lab. This project aims to enable stronger evidence-based strategies to reduce youth homelessness, foster community partnerships and
co-ordinated care to support homelessness prevention, improve the effectiveness of public spending in this area and build a more equitable society, especially for marginalized youth. 
Global Disaster and Emergency Response Preparedness
Advanced Disaster, Emergency and Rapid Response Simulation (ADERSIM) is a York-based research and training program designed to evaluate and drive improvements in disaster and emergency planning and response in Canada and around the world. Jianhong Wu, Canada Research Chair in Industrial and Applied Mathematics, leads the ADERSIM team, working with faculty from across the university and other institutions. 
One recent project sought to develop a framework for managing volunteers in the event of major disasters and emergencies in Ontario (in partnership with the NGO Alliance of Ontario and the City of Brampton).
In 2019, collaboration between ADERSIM and the City of Vaughan's Fire and Rescue Service won the Bronze Innovative Management Award from the Institute of Public Administration of Canada for helping to generate modelling and simulation tools to improve the performance of fire rescue services.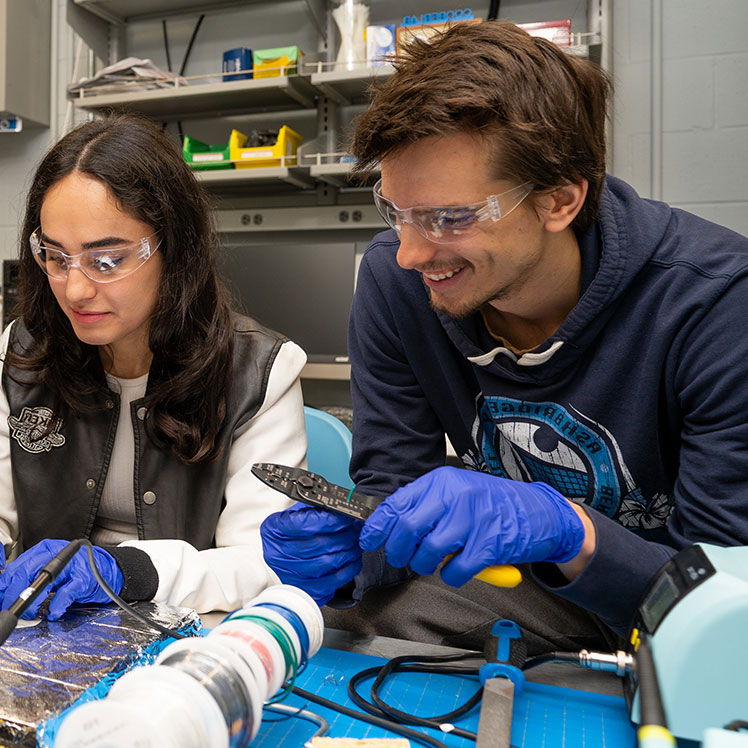 Cross-Campus Capstone Classroom (C4) Project
The Cross-Campus Capstone Classroom (C4) Project, led by professors Danielle Robinson of the School of the Arts, Media, Performance & Design and Franz Newland of the Lassonde School of Engineering, brings together students from across York University to work in interdisciplinary teams to address real-life social challenges that benefit from a variety of perspectives. In 2020, the C4 received an international award from Airbus and the Global Engineering Deans Council in Toulouse, France.
In one project, eight students from the Lassonde School of Engineering, Glendon College, the Faculty of Environmental and Urban Change, and the Faculty of Liberal Arts & Professional Studies developed the Solar Floatie, a solar home system that provides affordable heating and electrical power for homeowners, farmers and workers in El Norte Chico, Chile. The system replaces conventional high-cost industrial components with low-cost, accessible materials.
The C4 2020-21 project will be expanded to upper-year students enrolled in all faculties at York University.
"The whole C4 team is elated that Airbus recognized the global potential of the cross-disciplinary, project-based classroom that we pilot-tested last year, with major support from York University Faculty Association and the Academic Innovation Fund. We can't wait to bring C4 to more students, more programs, more faculties and more campuses next year. The world needs more people who not only know how to work with people who think and do differently, but can also recognize the advantages diversity brings."
­­— Danielle Robinson, Director of the York Capstone Network