"Like everyone else, I was following the developing COVID-19 pandemic earlier this year. Though it initially seemed so distant, the pandemic became much more real when the first cases began to appear in Canada, and even more so when my partner, who has just completed medical school, was pulled off his clinical rotations for his own safety.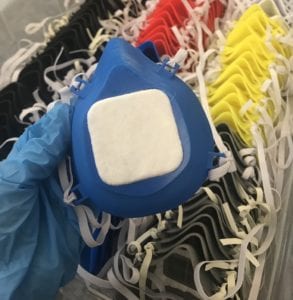 I wondered whether there was anything I could actively do to help preserve the safety and wellbeing of my family, friends, and community at large. An opportunity presented itself during one conversation about the pandemic I was having with my friends, where we discussed the issue of a lack of personal protective equipment (PPE) available to frontline healthcare workers. We had the idea to 3D print the needed PPE using resources in the community and immediately launched into action.
We began by talking to local libraries, engineering students, research labs, and community members about using their 3D printers. We asked fellow students to help us with assembly and delivery. We devised a contact-free pickup and drop-off system to ensure that we were all social distancing. We began crowd-sourcing and applying for grants to fund our activities. Now, less than a month since starting the project, we have raised over $30,000, have over 100 3D printers in use, printed over 5,000 masks and shields, and delivered them to frontline workers at local clinics, hospitals, pharmacies, retirement homes, and other institutions. Our group has also developed 3D-printed isolation tents for healthcare centres and even began innovating N95 mask and COVID test swab prototypes that are currently under development.
The level of generosity and solidarity that my team and I have experienced has been truly humbling. I am so proud to be part of this incredible initiative and to have responded to adversity in such a productive way." - Jessica Gahtan (BBA '16)
Jessica Gahtan (BBA '16)
Schulich School of Business
Finance, Accounting and Fundraising Lead, 3D PPE Kingston