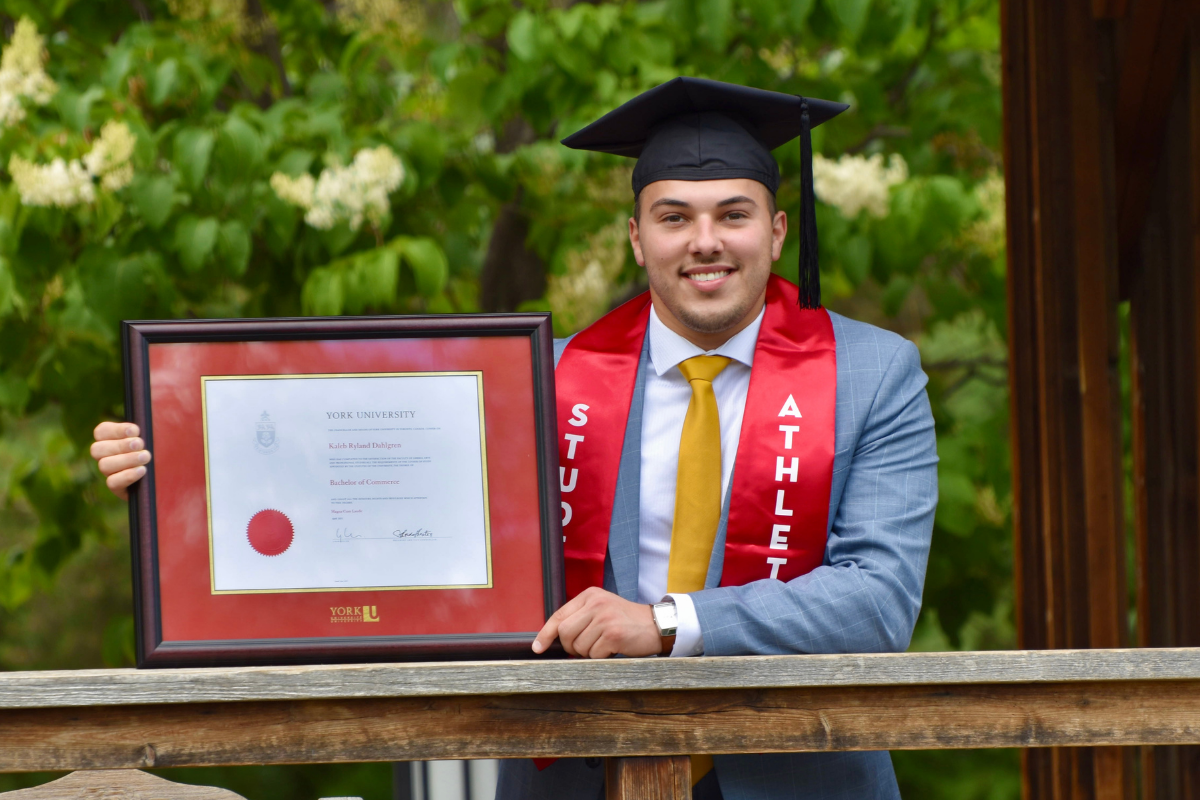 "There have been quite a few defining moments that have dictated my path. I'd say one of them is following my dream as a hockey player. Growing up, I always wanted to play hockey, and play at the highest level possible. The first time I was on skates was when I was two years-old. I loved the sound my skates made on the ice, the feeling of the wind in my hair, and the cold arena. I just fell in love. I had the chance to travel to the University of North Dakota, which is where I first found out that you could get a University degree while playing hockey. That became my goal. Fortunately, I was able to play at York University and follow that dream.
Around the age of four, I was diagnosed with Type-1 diabetes. At the time, it was difficult because I was so young. I couldn't really grasp the concept of being a diabetic and needing needles and insulin to survive. It just didn't really click. It took me a while to really come to terms with being a diabetic, and realizing that this was my life and that I had to make the most of it. I also faced coaches who told me that I shouldn't play hockey, that I wouldn't succeed, or that I should find a different sport, just because they thought diabetes would get in the way. It was one of the first adversities that I ever faced.
One of the toughest things I've had to persevere through, was the Humboldt Broncos bus crash. I lost 16 people that I consider to be family. Since the crash, the biggest thing for me has been feeling connected to the 16 and living my life to the fullest for them. I suffered many injuries myself during the accident – a fractured skull, a puncture wound, a severe traumatic brain injury, broken neck, broken back, large blood clots in my left arm and right eardrum, and muscle and nerve damage. But the main injury was the 16, and mentally and emotionally trying to come back from that. I really tried to focus on the things I could control, to come back to myself.
But I've also had to learn how to live life with a traumatic brain injury. There isn't enough awareness out there about brain injuries, but as a student athlete it's been difficult at times. I had to rely on tutors, academic accommodations and support, and often had to work twice as hard to finish my degree. I was able to be on the Dean's List and Academic All Canadian, so I'm really proud of how I've persevered through all those situations.
In early 2019, I gave my first speech on resilience. I talked about my diabetes, about almost losing my dad at the age 16, and about the Broncos tragedy. Someone came up to me afterwards and told me I should write a book. I laughed it off – it was my first year of university, of being a student athlete, and I had a brain injury. Fast forward to several more conversations like that, but even after talking to my agent, I wasn't interested. And then one day, I was sitting in my Prospects and Perils of Globalization class, and Professor Perchal said "If you want to change the world, it starts with you." I did want to make a change, and I want to leave a positive impact. A year later, I had written Crossroads: My Story of Tragedy and Resilience as a Humboldt Bronco.
There are so many topics covered in the book, from my brain injury to diabetes, I wanted to be able to connect with everyone and to hopefully help them when they find themselves at a crossroads in their own life. With a portion of proceeds being Donated to STARS Air Ambulance, and topics like family, hope and resilience, I have found that this has truly helped people - which was my goal! It's been a healing process for me. I wasn't sure I could do it, mentally or emotionally. However, I was able to be open and vulnerable, and that gave me strength. It's been an incredible experience.
I really can't say enough great things about my time at York. It's a beautiful campus, the student body is so diverse, I've made many great connections with people from across the world, and I've had incredible professors. It's also one of the top institutions in Canada, so I know that having a York degree will help me down the road as I look for jobs. As a student athlete, I have lifelong memories and friendships with teammates, coaches and other York athletes that I will always cherish."
Kaleb Dahlgren
York Lions Hockey Player
Liberal Arts & Professional Studies, Bachelor of Commerce '21
Author of Crossroads: My Story of Tragedy and Resilience as a Humboldt Bronco