From December 11 to December 14, 2017, the Asia-Pacific Institute (API) of the Chinese National Working Committee on Education for Sustainable Development (ESD) held their 5th annual Asia-Pacific Expert Meeting on ESD. Together with the ESD experts from Canada, China, Germany, Ireland, Papua New Guinea, and United States, the API Director, Dr. Shi Gendong, conducted the 1st National Advanced Training meeting on Education for Sustainable Development for more than 200 principals, teachers and senior administrators from schools across China. UNESCO officials from the field offices in Beijing, China and Bangkok, Thailand and representatives from the Hanns Seidel Foundation (China Office) were also delivering speeches on latest developments and current activities in ESD.
The context of the Chinese "One Belt, One Road" Initiative set the frame embracing the trend towards the world thriving economically and culturally in free trade but open in a spirit of regional cooperation. This opening of China to the Western World by jointly building the Silk Road and the 21st-century Maritime Silk Road will demand a transformation of teaching to prepare children for the uncertainty of this new future, changes in the requirements of the workforce focusing technical and vocational skills and also inviting large numbers of international students to China.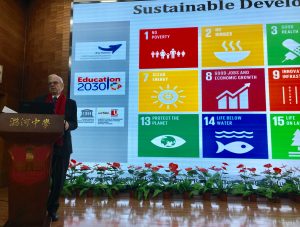 Professor Charles Hopkins, UNESCO Chair on Reorienting Teacher Education towards Sustainability at York University Toronto and Co-Director of the API also stressed that China just recently at the South-South Human Rights Forum in Beijing had stated that China perceived development was a human right. Hopkins stated that hopefully it would be the right to sustainable development.
Strengthened by the latest resolution of the United Nations General Assembly (A/72/420/Add.7), reaffirming ESD "…as an integral element of the Sustainable Development Goal on quality education and a key enabler of all the other Sustainable Development Goals…" and encouraging governments to scale up the implementation of the Global Action Programme on ESD, the conference focused on concrete new concepts and existing good practices in teaching and school leadership to underline ESD as a purpose of education in their institutions. Participants were also informed about potential opportunities on collaborating with the various UNESCO networks, such as the ASPnet, UNESCO world heritage sites, MAB Programme, UNESCO Global Geoparks, etc.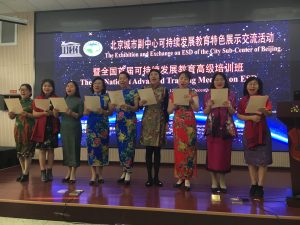 The new Educator Training Manual on ESD "Enhancing Educators´ ESD Capacity and Promoting Quality Education" was launched at the conference to further support the implementation of ESD in the whole school. Held in the capital´s new centre: Tongzhou District of Beijing at LuHe Middle School, participants also experienced everyday school life in one of the more than 1.000 experimental schools in China that are recognized for their ESD approaches.