YORK UNIVERSITY PLACES 33rd in the World
April 22, 2020
For the second year in a row, York University has earned recognition from Times Higher Education (THE) in its Impact Rankings, placing an impressive 33rd out of 767 universities. Released today, York ranked in the top ten in four key categories, and top 100 in 15 of the 17 United Nations Sustainable Development Goals (SDGs) measured by THE.
"York's standing reflects the essential role we play in tackling serious economic, social and health challenges at home, across Canada and around the world" said Rhonda L. Lenton, President and Vice-Chancellor, York University.
This year's Impact Rankings have expanded, not only in the number of participating universities, up from 450 last year to 767 this year, but also through the increased number of SDGs, up to 17 from the 11 measured last year. This now includes goals such as: no poverty, zero hunger, clean water and sanitation, and affordable and clean energy. York was ranked first in Canada (fifth in the world) for Clean Water and Sanitation, first in Canada (ninth in the world) for Reduced Inequalities third in Canada (ninth in the world) for Sustainable Cities and Communities, and first in Canada (10th in the world) for Gender Equality. These rankings reflect our core values and continued commitment to academic and research excellence, programming and initiatives.
"In the era of COVID-19, it is more important than ever for universities to work with government, industry and community organizations to strengthen all facets of society," said Lenton.
An exceptional study by York University proposing new sustainable alternatives to manage stormwater runoff was one of the many research and community initiatives that placed York as a leader in the THE's ranking for Clean Water and Sanitation (SDG 6). With Toronto as a case study, the researchers looked at the infrastructure that is in place to manage stormwater runoff, showing the systems are no longer adequate to handle flooding.
York ranked in the top 10 for Reduced Inequalities (SDG 10) measuring how institutions help make cities and settlements inclusive, safe, and resilient. Several key initiatives undertaken by Canada's leading researchers are reflected in this ranking, including the Making the Shift Youth Homelessness Social Innovation Lab, as well as the Helen Carswell Chair in Community Engaged Research in the Arts which supports community music and art programs in Toronto. We also had a top 10 finish for contributing to Gender Equality (SDG 5) which is exemplified in ELLA (Entrepreneurial Leadership and Learning Alliance), a program led by York University in partnership with the Small Business Enterprise Centers of Markham, Richmond Hill, Vaughan and York Region. This is a key example of how York is working to empower women entrepreneurs and reduce the gender equality gap.
We also focus our efforts on projects and partnerships that promote inclusive societies. The University was recognized for exceptional work in Poverty and in the Peace and Social Justice SDGs in several key projects, such as the Borderless Higher Education for Refugees (BHER Project) in Kenya, making educational programs available where refugees need them, and our extensive work within the Jane-Finch community at the TD Community Engagement Centre. And, a timely and innovative interactive video game developed at York, Shadowpox, demonstrates the effects of vaccination and how deciding to "go out" or "stay at home" affects the progress of a pandemic like COVID-19.
York's commitment to partnerships and opportunities for our students is essential to our mission. Whether it is providing conservation leadership opportunities for our students with the Worldwide Fund For Nature (WWF), and experiential education opportunities through York's eco-campus in Costa Rica, or in the forests of our Glendon Campus, our students are getting the education needed to make a difference.
Our leading researchers continue to make an impact with their dedication to sustainability research and initiatives such as the unique Ecological Footprint project, the only metric that compares overall human demand on nature with biocapacity – what our planet can renew, or with their study of rising mercury levels in fish to better assess how changing environments are impacting wildlife. Our students, faculty and external partners are contributing to solutions to the most pressing global challenges.
York's Sustainability Strategy plays an important role in guiding the University, empowering its people, and fostering a culture of sustainability within the University. On the national stage, York is ranked 8th which further exemplifies a commitment to building a stronger, more inclusive and sustainable country and world, reducing the impacts of climate change and responding to pressing global challenges. The 2020 THE ranking once again recognizes York University's position on the world stage of changemakers.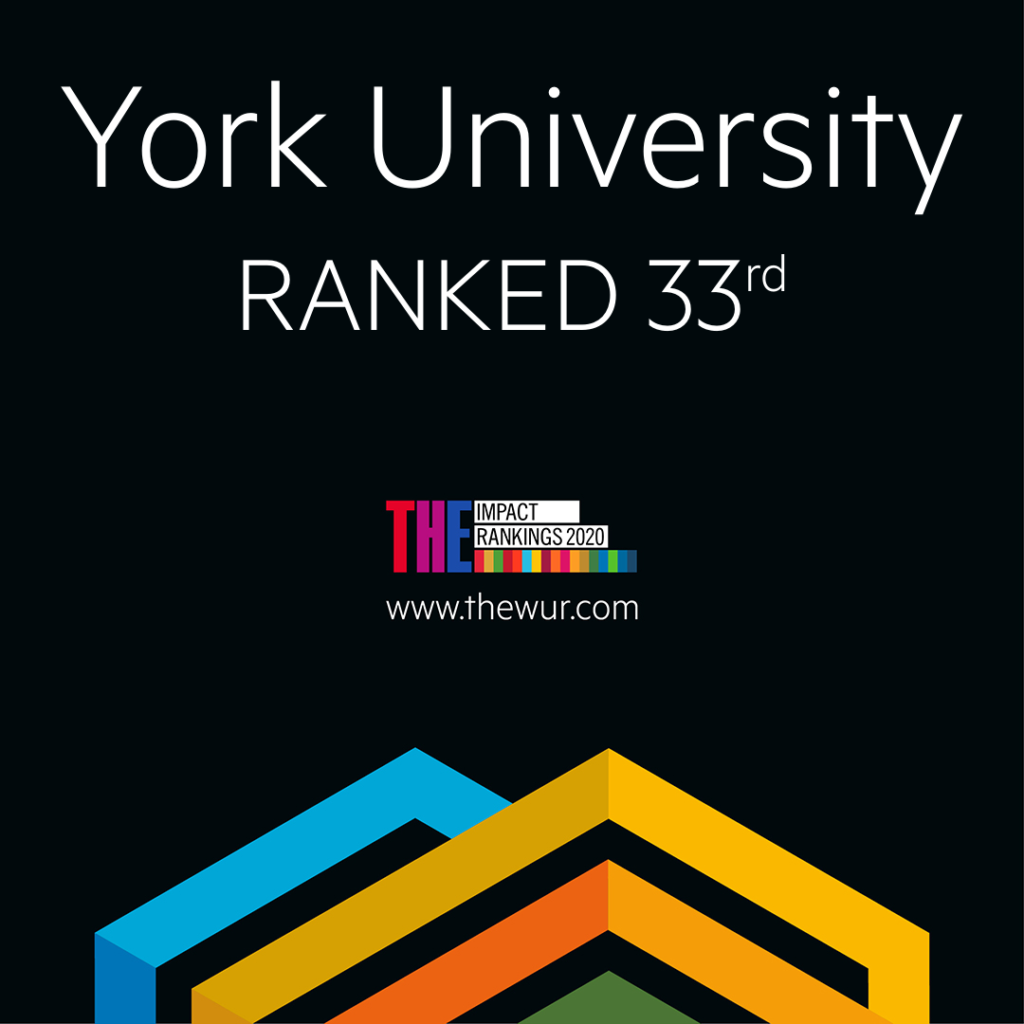 SDG Top 10 Rankings