Lincoln R. Best
M.Sc., York University
Honours B.Sc. in Zoology, University of Guelph
Email: lrbest@yorku.ca
Research Interests
Recently, the Packer Lab was working on The Bees of Canada Project, aiming to document the diversity and distribution of Canada's bee fauna while providing mtDNA samples of these specimens to the Barcode of Life Project. My role was to survey, curate, and interpret barcode (mtDNA) data for the fauna west of the Rocky Mountains in British Columbia. In 2008, I conducted an independent survey of the Aculeate Hymenoptera of British Columbia which yielded new species, new species introductions, national and provincial records, as well as distributional data for species at risk such as Bombus occidentalis Greene, the Western Bumble Bee.
In 2009, I worked as a consultant for Bioversity International, formerly the International Plant Genetics Resource Institute, Italy. I documented pollinator diversity in the Badakhshan Region of Tajikistan, and throughout Kyrgyzstan in a project complementing an established program in agridiversity sustainability and economic development. This work took me across the high Pamir, Alai, and Tian Shan Mountain Ranges of Central Asia. The study will identify regions of high pollinator diversity with reference to agricultural production and will contribute significantly to Bee-BOL, an initiative to produce genetic barcodes for the bees of the world.
I spent 10 weeks this past summer conducting extensive surveys of the western apifauna of Canada in British Columbia's Okanagan Valley, and Columbia River Basin. This took me through Mt. Revelstoke, Glacier, Yoho, Banff, and Kootenay National Parks in an effort to develop baseline data for bee diversity in the Parks generally, and for B. occidentalis Greene specifically.
Focussing on pollinator survey methodologies in the Okanagan-Similkameen Region of B.C., I used a series of 75 trap-nests (2250 nesting galleries) in a randomized block design to compare recruitment, abundance, diversity, and rates of parasitism across 3 treatments using 5 replications. Ultimately, the goal is to develop the trap-nest as an ecological monitoring tool for use in environmental assessment.
I love bees.
---
Favorite Recipe
Rainbow Trout Curry
This was my staple during my spring field work in the Okanagan-Similkameen, 2009.
Directions
Quickly sauté the balsam-root sunflower with the curry and salt. Cook the rice and fry the trout. The works seasoned to taste with yellow and purple desert parsley (Lomatium spp.), and Carribean red habaneros.
Ingredients
2 large handfuls of arrowleaf balsam-root sunflower (Balsamorhiza sagittata)
2lb wild Rainbow Trout (Oncorhynchus mykiss)
1 cup of basmati rice
madras curry
salt
---
Funniest Research Story
Competitive Exclusion
Remote regions of BC remain very much wild. In the past I've had to chase deer, elk, big horn sheep, bears, cougars, rednecks, and wily, tusked mountain cows from pan trap plots. Of the lot, free range cows and cougars remain most persistent.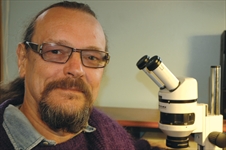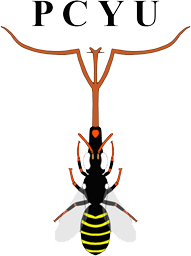 Lumbers Building 345
York University
4700 Keele Street
Toronto, Ontario
M3J1P3, Canada