Sheila Dumesh
Research Technician
M.Sc. in Biology
York University
Email: sdumesh@yorku.ca
Research Interests
Sheila is one of the taxonomists in the Packer lab. She is currently working as the lab technician. She first started out in the lab, in 2007, as an undergraduate Honours thesis student, then contiued onto graduate school. For her M.Sc. thesis, she worked on a revision of the Mesoamerican bee genus Mexalictus, where she described 17 new species (and has since added 4 more); the work also includes an illustrated key and a morphology-based phylogenetic analysis. Her current work includes systematic studies of several groups of bees, DNA barcoding projects, writing and designing web-based identification keys, and imaging bees with the lab's Visionary Digital BK plus Digital Imaging System.
Recent work includes revisions of Mexalictus, Dufourea, and current revisions of a number of South American bee genera. In addition to taxonomic descriptions, the study includes phylogenies based on a morphological-character matrix. Due to the nature of the specimens available for study, molecular work was not possible. Sheila and Cory Sheffield revised the Canadian species of the genus Dufourea. The publication contains a user-friendly, illustrated online key which is available through the journal's website (CJAI).
Publications
Packer L, Dumesh S. 2014. Two new species of Geodiscelis (Hymenoptera: Apoidea: Colletidae) with a phylogenetic analysis and subgeneric classification of the genus. Zootaxa 3857: 275-291. doi: 10.11646/zootaxa.3857.2.7 Full text
Sheffield CS, Frier SD, Dumesh S. 2014. The Bees (Hymenoptera: Apoidea, Apiformes) of the Prairies Ecozone with Comparisons to other Grasslands of Canada (Chapter 11). Biological Survey of Canada: Arthropods of Canadian Grasslands Volume 4: 427-467.
Gibbs J, Dumesh S, Griswold T. 2014. Bees of the genera Dufourea and Dieunomia of Michigan (Hymenoptera: Apoidea: Halictidae), with a key to the Dufourea of eastern North America. Journal of Melittology 29: 1-15. doi: 10.17161/jom.v0i29.4652
Dumesh S. 2013. Revision of the Mesoamerican bee genus Mexalictus (Hymenoptera: Halictidae) with the description of 21 new species. Zootaxa 3708: 001-080. doi: 10.11646/zootaxa.3708.1.1
Gibbs J, Dumesh S. 2013. A new species, Lasioglossum (Eickwortia) hienae, from Mexico (Apoidea: Halictidae). Journal of Melittology 13: 1-11. doi: 10.17161/jom.v0i13.4518
Gibbs J, Packer L, Dumesh S, Danforth BN. 2013. Revision and reclassification of Lasioglossum (Evylaeus), L. (Hemihalictus) and L. (Sphecodogastra) in eastern North America (Hymenoptera: Apoidea: Halictidae). Zootaxa 3672(1): 001-117. doi: 10.11646/zootaxa.3672.1.1
Dumesh S, Packer L, 2013. Three new species of Neofidelia (Hymenoptera: Apoidea: Megachilidae) from northern Chile. Zootaxa, 3609: 471-483. doi: 10.11646/zootaxa.3609.5.3 Full text
Packer L. and Dumesh S. 2012. Mirnapis ohloweni Packer and Dumesh, new species with notes on M. inca Urban (Hymenoptera: Apidae: Eucerini). Zootaxa 3478: 113-122. Full text
Dumesh S, Sheffield CS. 2012. Bees of the genus Dufourea Lepeletier (Hymenoptera: Halictidae: Rophitinae) of Canada. Canadian Journal of Arthropod Identification 20. doi: 10.3752/cjai.2012.20
Sheffield CS, Dumesh S, Cheryomina M. 2011. Hylaeus punctatus (Hymenoptera: Colletidae): a bee species new to Canada, with notes on other non-native species. Journal of the Entomological Society of Ontario 142: 29-43. Online full text
Dumesh S, Packer L. 2011. The Calliopsis (Hymenoptera; Andrenidae; Panurginae) of Chile with the description of a new species. Zootaxa 2908: 64-68. Full text
Colla S, Dumesh S. 2010. The bumble bees of southern Ontario: notes on natural history and distribution. Journal of the Entomological Society of Ontario 141: 38-67. Online full text
---
Favorite Recipe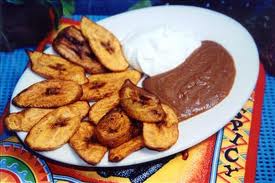 Platanos fritos con crema
Ripe plantains (must be very soft), crema fresca, and (optional but delicious) refried beans.
---
Funniest Research Story
Mmmmmm... chilies...
I was on a collecting trip in Chiapas, Mexico. We were walking along in the forest when I spotted a bush of these small berry-like chilies. I had just tasted them a few days earlier and they were great - I was so excited to pick some for myself! I started picking some and putting them into an empty vial.
Later that week, I found another bush on the roadside FILLED with ripe red chilies. I asked my field assistant to pull over so that I could go pick some quickly. I was picking and picking, getting so excited at how many there were, when all of a sudden I look down on my hand to see it covered by about five or six 2" wasps stinging away. I swung my hand to try to get them off and ran onto the dirt road and back to the car yelling.
It was extremely painful, my hand was entirely swollen within a few minutes. Then I found out that those wasps were referred to as "choking wasps" by the locals because of a common reaction to their sting. Thankfully I did not feel any side effects other than the pain pulsing up my entire arm.
The wasp nest was in the bush near my feet and I must have moved the bush enough to aggravate the residents! I guess me picking the berries didn't make these territorial wasps happy! It was just ironic how I got stung while I wasn't collecting bees... by wasps!
Please don't kill us... or yourself!
When I was doing field work in Guatemala, we were driving around a small village in the mountains, looking for good collecting sites. It was just myself and another woman who was helping me, and everyone was concerned that two females were going into the mountains of Guatemala alone. We came across a small patch of flowers and decided to get out of the car and collect some bees. We were there for a few minutes when a drunk villager approached us and stated yelling in on of the 22 native Guatemalan tongues, which are very different from Spanish, so we could not communicate well. We tried explaining that we were collecting bees and that we weren't causing any harm to the flowers. We showed him one of the bees we caught, to explain, but he started stepping on it and then grabbed one of our cyanide killing tubes and started stepping on it as well - thankfully it was plastic and not glass! I slowly hid the second cyanide tube in my back pocket as the man continued yelling - at this point we were backing off and trying to head back to the car. I was mostly worried about him seeing my cyanide tube and losing all the bees I collected, so I ran to the car as soon as he stumbled away. Apparently he was trying to claim the land was his so that he could get some money out of us. We got away, with the bees, and even stopped to see if we could find the one he stepped on earlier.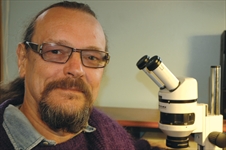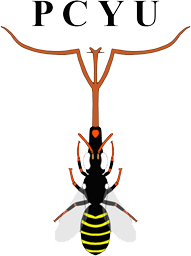 Lumbers Building 345
York University
4700 Keele Street
Toronto, Ontario
M3J1P3, Canada