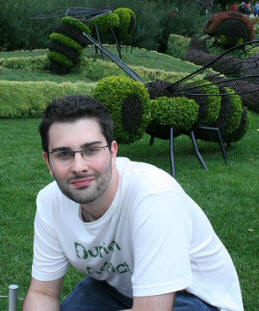 Thomas M. Onuferko
Ph.D. candidate, York University
M.Sc. in Biological Sciences, Brock University
Honours B.Sc. in Biology, University of Ottawa
Email: onuferko@yorku.ca
Research Interests
Although my interests in the natural world are large and varied, I am most passionate about studying the diversity of insects and other terrestrial arthropods. My master's research focussed on the restoration ecology of a bee community in southern Ontario, and my current PhD work is mostly in bee biosystematics. During my master's, I developed a special interest in kleptoparasitic bees (also called cuckoo bees), which rob their host bees of nesting resources. The taxonomy of many kleptoparasites remains undescribed, which is unfortunate since they are among the first bees to respond to ecosystemic disturbance and therefore potentially valuable bioindicators of the state of the environment.
I am currently revising the parasitic apid genus Epeolus, which is widespread across the globe and an interesting group for the study of kleptoparasitism as its constituents are heavily specialized on their hosts in the genus Colletes. I aim to revise the genus Epeolus for Canadian and ideally North American species. I then plan to create phylogenies for Epeolus and Colletes. My ultimate goal is to determine if host-parasite co-speciation occurred and if coevolution was a mechanism that led to diversification in these groups, a hypothesis that in bees has never been tested before.
---
Publications
Onuferko TM. 2018. A revision of the cleptoparasitic bee genus Epeolus Latreille for Nearctic species, north of Mexico (Hymenoptera, Apidae). ZooKeys No. 755: 1-185. doi: 10.3897/zookeys.755.23939
Onuferko TM. 2018. A record of bilateral gynandromorphism in Epeolus (Hymenoptera: Apidae: Nomadinae). Journal of Melittology No. 76: 1-6. doi: 10.17161/jom.v0i76.7056
Packer L, Monckton SK, Onuferko TM, and Ferrari, RR. 2018. Validating taxonomic identifications in entomological research. Insect Conservation and Diversity 11:1-12. doi: 10.1111/icad.12284
Sheffield CS, Heron J, Gibbs J, Onuferko TM, Oram R, Best L, deSilva N, Dumesh S, Pindar A, and Rowe G. 2017. Contribution of DNA barcoding to the study of bees (Hymenoptera: Apoidea) of Canada: progress to date. The Canadian Entomologist 00: 1-19.
Onuferko TM, Skandalis DA, Leon Cordero R, and Richards MH. 2017. Rapid initial recovery and long-term persistence of a bee community in a former landfill. Insect Conservation and Diversity 11:88-99. doi: 10.1111/icad.12261
MacIvor JS, Roberto AN, Sodhi DS, Onuferko TM, and Cadotte MW. 2017. Honey bees are the dominant diurnal pollinator of native milkweed in a large urban park. Ecology and Evolution. doi: 10.1002/ece3.3394
Onuferko TM. 2017. Cleptoparasitic Bees of the Genus Epeolus Latreille (Hymenoptera: Apidae) in Canada. Canadian Journal of Arthropod Identification No. 30: March 30, 2017. doi: 10.3752/cjai.2017.30
Onuferko TM, Kutby R, and Richards MH. 2015. A list of bee species (Hymenoptera: Apoidea) recorded from three municipalities in the Niagara region of Ontario, including a new record of Lasioglosum furunculum Gibbs (Halictidae) in Canada. Journal of the Entomological Society of Ontario 146: 3–22. Full text
Richards MH, Onuferko TM, Rehan SM. 2015. Phenological, but not social, variation associated with climate differences in a eusocial sweat bee, Halictus ligatus, nesting in southern Ontario. Journal of Hymenoptera Research 43: 19–44. doi: 10.3897/JHR.43.8756
Rehan SM, Rotella A, Onuferko TM, Richards MH. 2013. Colony disturbance and solitary nest initiation by workers in the obligately eusocial sweat bee, Halictus ligatus. Insectes Sociaux 60: 389-392. doi: 10.1007/s00040-013-0304-8
---
Favorite Recipe
Tom Yum Goong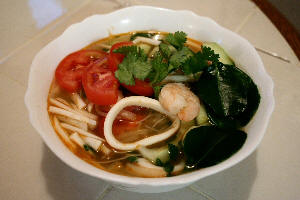 Directions
Heat the oil in a pot and add the chili sauce, cook over medium heat until fragrant. Stir in the galangal or ginger, and garlic, and cook for an additional minute. Add the stock, lemon grass, and fish sauce, and bring to boil. Reduce heat and add the vinegar and rice noodles. Just before noodles are fully cooked, add the chopped onion, celery, and carrot with the seafood and lime leaves (do not overcook the seafood). Remove heat once seafood is cooked and serve in bowls with a slice of lime and cucumbers, tomatoes, cilantro, Thai basil, and green onions.
Ingredients
2 tbsp. vegetable oil
1 tbsp. Sriracha (chili) sauce
1 tbsp. diced galangal or ginger
1-2 garlic cloves (finely chopped)
8-10 cups chicken, vegetable, or fish stock
1 lemon grass stalk (bruised)
1 tbsp. Thai fish sauce
1 tbsp. rice vinegar
2 cups Thai rice noodles
1 small onion (chopped)
1 small carrot (chopped)
1 celery stalk (chopped)
2 dried chilies (seeded and torn)
10 kaffir lime leaves (torn)
1 cup prawns or mixed shellfish
1 small cucumber (sliced)
1 tomato (sliced)
Several paper-thin slices of lime (to garnish)
Freshly chopped cilantro (to garnish)
Thai basil leaves (to garnish)
1 freshly chopped green onion (to garnish)
2 small sliced fresh red chilies (to garnish)
---
Funniest Research Story
To come, as I have years of research ahead of me still...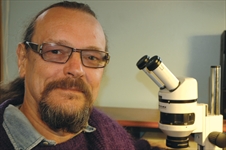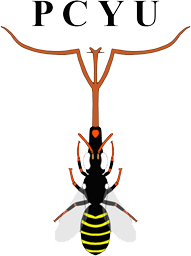 Lumbers Building 345
York University
4700 Keele Street
Toronto, Ontario
M3J1P3, Canada